Colombian Appetizer Ideas

27 Jul 2011
If you are looking for some exceptional appetizers, then this article on Colombian appetizer ideas is a must read article. Here, you will find some information on authentic Colombian appetizers.

 
Although the Colombian cuisine has been influenced by Brazilian, Peruvian and American traditions, the Colombian appetizers have still made a mark for being distinct. Let's see some of the finest Colombian appetizers which will definitely helpful to you.

 
Colombian appetizer ideas:

 
Arroz con coco is a traditional dish from the Caribbean region of Colombia. You can prepare it with fresh coconut milk. The addition of coconut milk adds a wonderful flavor to the rice.  It is a delicious dish which can be served with fish or any other seafood.

 
Aborrajado:

Aborrajado is another delicious Colombian appetizer which can be prepared in different ways. It is basically ripe plantain fritters, which are deep fried. If you like, you can add some guava paste as well between the plantains along with some cheese. The dish can be enjoyed either hot or warm.

 
Ajiaco: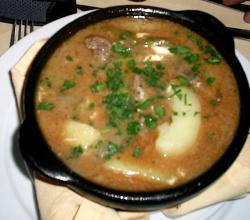 Ajiaco is a very popular Colombian potato soup. Apart from potato, the soup also contains pieces of chicken, and large chunks of corn. Being dark yellow in color, this aromatic soup can be served with cream, capers, and avocado. This Colombian appetizer is really tasty and filling.

 
Aguacates Rellenos de Camarones (Avocado stuffed with shrimp):

This avocado dish is quite simple to make and considered to be an ideal Colombian appetizer. It is avocado stuffed with shrimp and it can be served with lettuce and tomato slices on a platter. Before serving the dish, you can sprinkle few fresh cilantro leaves. The dish will look beautiful and tastes great.

 
Arepa is a Colombian appetizer made with ground corn dough. The dish is popular not only in Colombia, but in Venezuela and other Spanish speaking countries. The dish can be topped or filled with eggs, meat, tomatoes, shrimp or cheese. Try this authentic dish, and impress your family members.

 
Hope, these Colombian appetizer ideas are easy to understand. Just try these dishes if you are bored with the simple, monotonous food.
Image credits: www.ifood.tv, www.recetasgourmet.com.ar &  www.floridasportsman.com
Colombian Appetizer Ideas