Easy Cheese Casserole Ideas
27 Jul 2011
These easy cheese casserole ideas from Ifood are a true treat for cheese lovers. Simple ingredients present in these quick cheese casserole recipes blend with each other in such a way that the casseroles taste simply great. Delve deep into this write-up on easy cheese casserole ideas to know more...
Top 7 Quick Cheese Casserole Ideas
Combine potatoes with creamed cottage cheese, cream, scallions, salt, and pepper, and then bake it to golden brown with a sprinkle of your favorite seasoning. Allow butter to drizzle over the casserole mixture before baking. This cheesy buttery casserole will be loved by the kids and adults alike.
A lip-smacking delicacy, this is a great idea to be included in your party meal as a main dish. Sautéed onions, broccoli, rice, Cheez Whiz and cream of mushroom soup are mixed and baked. Simple ingredients, yet magnificent taste! That is the specialty of this exclusive casserole.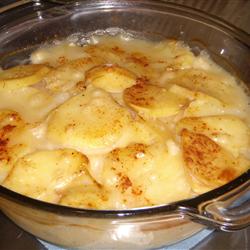 Cheese Scalloped Potatoes 
Very simple ingredients, easy to prepare, and tasty to eat, this dish is an undeniable entry into even the most casual and laidback party. Just top the potatoes and olives with a mixture of Cheddar cheese soup, pepper, and milk and bake till golden brown.
This cheese casserole recipe is made by cooking tuna with rest of the ingredients, including pasta, garden veggies, and Cheddar cheese. The mixture is then baked to golden brown with a topping of cheese. The cheese melts as the casserole is baked, and just flows down the sides, making the casserole luscious and more appealing.
Italian Bean And Cheese Casserole 
A very simple cheese casserole with the goodness of beans, carrots, celery, and tomatoes, this delicious casserole can be prepared in with less effortt. Flavored with garlic and assorted herbs, this delicious casserole is a great asset in your holiday meal kitty of ideas.
Eggplant And Cheese Casserole 
This excellent cheese casserole is made with very simple and easy ingredients. Eggplant is mashed thoroughly before adding to milk-soaked bread, eggs, and cheese. Bake the casserole to golden brown topped with oodles of cheese. For a savory touch, add a dash of red paprika flakes. A dash of lemon juice and few fresh herbs make this simple dish ideal for an elegant dinner.
This cheesy creamy casserole is an elegant way to start your day. Rich with sour cream, cooked Milo, and Monterey Jack cheese and flavored with green chilies, this is a savory dish which can be enjoyed with a hot and spicy spread. The casserole is so versatile that you can vary the grains and cheese to bring in different flavors. Substitute green chilies with jalapeno peppers for a milder version.
Make your dinners divinely rich with these scrumptious, yet easy cheese casserole ideas.
Image Credit: ifood.tv, mustbejelly.blogspot.com, greek-kouzina.blogspot.com
Easy Cheese Casserole Ideas