Easy Rice Casserole Ideas
27 Jul 2011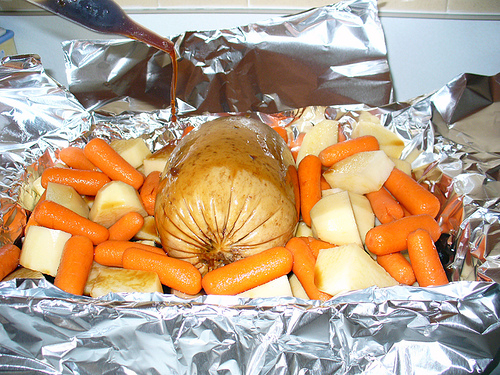 Easy rice casserole is a tastier way to introduce kids to rice. Ifood presents a mesmerizing collection of quick rice casserole ideas, which are very simple, but taste magnificent. To know more about these easy rice casserole ideas, read through...
Top 10 Quick Rice Casserole Ideas
This quick and easy rice casserole is made with cooked chicken, rice, along with beans, soup, mayonnaise, minced onion, sliced pimiento, and pepper. Top it with buttered golden roasted bread cubes, garnish the chicken casserole with pimiento strips and parsley, and serve hot.
Broccoli, Rice and Cheese Casserole 
This rice casserole is simple and easy to make. Mashed broccoli along with cream of mushroom soup, Monterey Jack cheese, and Cheddar cheese are added to cooked rice before being baked till slight brown. Serve hot.
Browned lean beef is cooked with rice and vegetables and beef bouillon, Tabasco sauce, and seasoning before baking to golden brown. While Tabasco sauce brings in the savory appeal, cheese atop the rice casserole mixture makes for a cheesy, creamier casserole. 
This very easy and tasty casserole comes with the goodness of spinach, scallions, onions, and fat-free chicken stock, and flavored with dill, parsley, lemon, and black pepper. This healthy and tasty rice casserole is a great main dish for daily meal.
Brown Rice And Cheese Casserole 
Brown rice is baked with cream, cheese, salt, green pepper, and onion. Sprinkle a little red paprika flakes and more cheese for a tastier and delectable rice casserole.
Ground sausage is fried to light brown before blending with onion and celery.. The best part of this rice casserole is that fat is drained off, making this casserole a healthy one. Mushroom soup adds to the richness while slivered almonds sprinkled atop casserole mixture give it the crunchiness.
Brown Rice And Spinach Casserole 
Brown rice and spinach are healthy ingredients. While nutmeg renders an alluring flavor to this casserole, cheese adds to the creaminess. Sprinkle bread crumbs atop the casserole mixture before baking for a tastier casserole. Season this deliciously healthy casserole with red paprika flakes just before serving.
Rice, cracked wheat, celery, onion, and curry powder are stirred in margarine before mixing in orange liquid and bouillon. Bake the mixture and finally stir in orange segments and parsley. The blend of tangy, sweet orange with fresh parsley makes this casserole alluring and delectable.
A sumptuous dish from the Asian cuisine, rice is cooked along with pork, chicken, and shrimp, broth, and vinegar. The casserole is flavored with pepper, cinnamon, anise, and ginger. Add omelets and pimiento slowly to the casserole for a greater tasting casserole.
Organic Golden Rice Casserole 
The goodness of organic rice is enriched by the presence of assorted veggies like peas, onions, broccoli, cauliflower, zucchini, carrot, or mushrooms. Yogurt, cashews, and raisin enrich the flavor and aroma of this mesmerizing rice casserole from Asian cuisine.
Plan a rice menu exclusively to include these tasty, easy rice casserole ideas.
Image Credit: ifood.tv, myrecipesharesite.blogspot.com, 
Easy Rice Casserole Ideas