Kiwi Menu

27 Jul 2011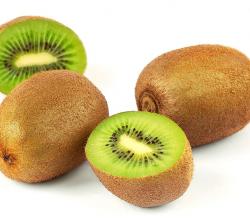 A kiwi menu immediately brings to mind a succulent, juicy, green fruit with a sweet and slightly tart taste. Kiwis is a great fruit due to its nutritious qualities and also works supremely well in cooking. They are a fantastic meat tenderizer, make an attractive garnish for cakes as well as tarts, and blend well in cocktails and smoothies. The uses of this fruit are umpteen. Read on for some great kiwi menu ideas.

 
If you are fond of smoothies then you are really going to enjoy this particular concoction of strawberries and Kiwi. Never has whizzing fruits together with orange juice and ice tasted so good. This smoothie is a guilt free sweet treat that's actually good for you and contains only about 150 calories. Fiddle with the recipe until you find the right thickness. If you prefer your smoothies to be spoonable, you can add more or less ice and juice depending on your liking.
While most of us think of kiwi fruit as part of a dessert, drink or salad, kiwis can also be part of a main dish. Cook a skinless chicken breast as you generally would, either in a pan, roasted or grilled. Seasoning the chicken with a citrus-based flavoring works fine and helps the flavors blend with the kiwi. Slice the kiwi and place them on the plate in a single layer. Cut the cooked chicken breast into elongated strips and set over the layer of kiwi fruit. Serve and enjoy.
Kiwi Fruit Salad
A simple and easy way to prepare kiwi fruit is to incorporate it into a small fruit salad. Pick out five or six kiwi fruits and peel the skin off of all of them. Cut up the kiwi in small bite sized pieces. You can add bananas, pineapple, strawberries, or whatever fruit you enjoy and mix it all together. To really give this salad some zing, you can add a pinch of cumin, a pinch of salt and about 2 tbsp. of lime juice to the fruit.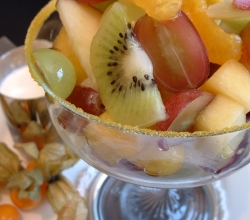 Chocolate Tartlets with Fresh Kiwi and Red Currant Jam
Chocolate tartlets with fresh kiwi and red currant jam is a dessert that is quite simple to make, but will wow party or dinner guests with its eye-catching taste and appearance. Combining dark chocolate with fresh kiwi fruit, mixed nuts and red currant jam, these chocolate tartlets are both exceptionally rich and subtle in taste. Chocolate tartlets with fresh kiwi and red currant jam make an outstanding end to almost any meal, especially when served with a cup of fresh-brewed espresso.
Can't wait to get started on this kiwi menu? Make sure you buy them fresh and pick ones that have no bruising. Happy cooking!
Image credits – ifood.tv
Kiwi Menu