Prawn Menu

26 Jul 2011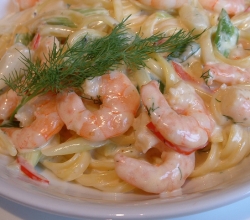 While working on a prawn menu, it might be useful to know that the meat of the prawn comes from its thorax region. The head, tail and legs do not provide adequate meat for eating. However, you could always use these parts of the prawn for presentation. Boiling prawns is possibly the most popular and easy method of cooking them. Here are some great prawn menu ideas that will have your guests wanting more.
Prawns, known as shrimp in the United States, are crustaceans with a crisp mild taste that can be eaten hot or cold. Prawns are low in fat and calories but high in vitamins D and B12, protein and iron. Fresh whole prawns come with the heads and shells attached and the veins inside. Purchase ready to cook prawns if you don't want to remove those parts yourself.
Prawn, Red Pepper and Leek Risotto
This dish is a new twist on a classic Italian recipe. Mixing the salty, sweet taste of prawns with the earthy red pepper and leek, prawn, red pepper and leek risotto is a dish that is both intricate and satisfying. Pair it with a glass of chilled dry white wine, slices of hot Italian bread and garlic butter and a delicious Mediterranean salad. You can serve the risotto in individual bowls garnished with chives and tarragon. Serve it immediately after cooking.
Prawn Salad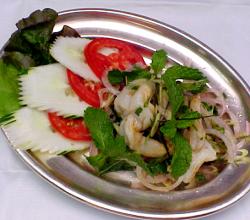 If you enjoy prawns, but you're not quite sure how to prepare them, try combining the seafood with a few other ingredients to make some healthy and appetizing salads. Just altering the seasonings can change the salad into something exotic. You can use arugula, kalamata olives, baby tomatoes, chopped artichoke hearts and a few cubes of creamy goat cheese to make a really good prawn salad.

 
Prawns Sauteed in Lemon Coconut Sauce
This dish is a traditional Chinese recipe often prepared for holiday parties and important banquet dinners as an appetizer. Combining fresh prawns with homemade coconut milk, sugar, salt and the typical Chinese ingredients candlenuts and red chili, prawns in coconut sauce is a fiery but fulfilling dish. This dish is best served over a bed of steamed white rice with a glass of chardonnay or beer, prawns in lemongrass and coconut sauce makes an ideal light starter for a summer evening.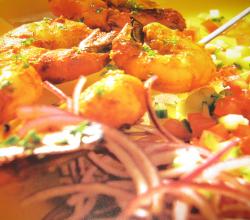 While working with this prawn menu, remember that larger sizes are better for grilling and smaller sizes work well in casseroles. Prawns are cooked in numerous ways. They can be cooked with or without their shell and can even be deveined. Common prawn cooking methods include grilling, steaming, baking and sautéed or deep-frying.
Image credits – ifood.tv 
Prawn Menu