Easy Broccoli Casserole Ideas
26 Jul 2011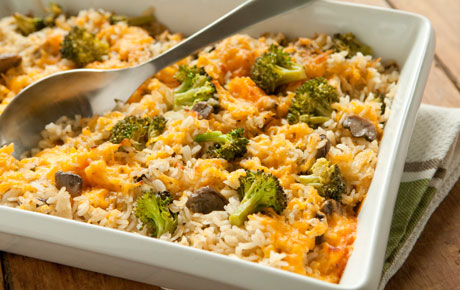 Easy broccoli casserole ideas are simple to make, great to taste, and healthy also. The Ifood assortment of quick broccoli casserole ideas are so versatile that they fit into any occasion with ease. Read this write-up to know more about the delicious easy broccoli casserole ideas...
Top 10 Easy Broccoli Casserole Ideas
Chicken and Broccoli Casserole 
This easy chicken and broccoli casserole is quick to fix and bake, and it tastes delicious with hot boiled rice and buttered noodles. The cheese sprinkled while baking the casserole adds a creamy, luscious appeal to this tasty breakfast.
This casserole will mesmerize any eater, fussy or easy. This great side dish is prepared by cooking tuna and broccoli in a mixture of Parmesan cheese, lemon juice, and dill weed before baking. You can sprinkle a little more cheese atop casserole mixture.
Broccoli, Rice and Cheese Casserole 
This broccoli casserole is simple and easy to make. Mashed broccoli along with cream of mushroom soup, Monterey Jack cheese, and Cheddar cheese are added to cooked rice before baking to slight brown. Serve hot.
Easy Broccoli Cauliflower Casserole 
Enjoy the goodness of cauliflower and broccoli at the same time with this deliciously healthy broccoli casserole. Steamed veggies are coated with a mixture of Cream of Chicken Soup, Cheese Whiz, and fried onions and then, baked to perfection.
An easy broccoli casserole with a French fried onion rings, butter, eggs, dry mustard, and cheese, this looks great and taste delicious. Sprinkle few red paprika flakes or Italian seasoning along with grated cheese atop the casserole mixture before baking it.
Lima beans is mixed with shredded biscuits, curry powder, cream of celery soup, and cream of mushroom soup and then, baked to a golden brown color. Sprinkle cheese atop freshly baked casserole along with Tabasco sauce for added taste and appeal.
If you wish to bake a crunchy broccoli casserole, then choose this idea. Assorted herbs, fresh vegetables, and nuts are baked to perfection with assorted cheese spread over the casserole mixture. Alluring and aromatic, these side dishes are perfect for any occasion, formal or casual.
A lip-smacking delicacy, this is a great idea to be included in your party meal as a main dish. Sautéed onions, broccoli, rice, Cheez Whiz and cream of mushroom soup are mixed and baked. Simple ingredients, yet magnificent taste! That is the specialty of this exclusive casserole.
Sautéed broccoli is topped with butter-sautéed onion, green pepper, and celery and the turkey mixture and baked to golden brown. This delicious combination of turkey with vegetables makes it a great ingredient for a perfect holiday meal.
Potatoes are vegetables adored by kids and adults alike. And, when it is blended with the goodness of broccoli and creaminess of cheddar cheese in this casserole, words fall short to describe its mesmerizing taste.
Include these easy broccoli casserole ideas in your party next time and impress your near and dear ones.
Image Credit: myrecipesharesite.blogspot.com
Easy Broccoli Casserole Ideas