Portuguese Appetizer Ideas

26 Jul 2011
Appetizers are always considered to be an important part of meal in the Portuguese cuisine. If you want to make some Portuguese appetizers, then you have come to the right place. This write up has described few delicious and easy Portuguese appetizer ideas.

 
Portuguese food is quite famous all over the world because of its rich and full-flavored dishes. Since many of the Portuguese dishes are light and easily digestible, appetizers often afford to be more consistent. Below is given a list of Portuguese appetizers which are very simple to make at home.

 
Portuguese appetizer ideas:

 
Bifanas:

 
Bifanas are the traditional Portuguese appetizer which are made with pork loin. It is a kind of Portuguese sandwich but it tastes different from the usual sandwiches. The secret to this sandwich is; a big hot pan, lots of old oil…slices of meat (pork or beef), cheap bread, old mustard, and very old ketchup….looks gross but tastes divine. 

 
Bacalhau is a traditional delicacy of Portugal which can be served as an appetizer. Bacalhau is actually referred to as dried and salted cod which has been preserved by drying. In order to bring out the true flavors of bacalhau, the fish is soaked in water for 24-48 hours. Then this fish is cooked, retaining the flaky consistency which is very different from that of fresh fish. Over the centuries, bacalhau have consistently been sought-after international favorites.

 
This Portuguese baked fish is a very popular appetizer which can be found on the streets of other cities as well. This is a very easy dish to make at home. You just need to place the fillets in a baking dish after seasoning with garlic, bay leaf, and pepper. You can serve this dish with steamed broccoli. Very yummy!!

 
A lobster roll is a kind of sandwich which is usually stuffed with lobster meal. You can also use other ingredients for filling such as celery, scallion or butter. This lobster roll is very simple to make as the ingredients are few which you can easily find in your kitchen cabinet.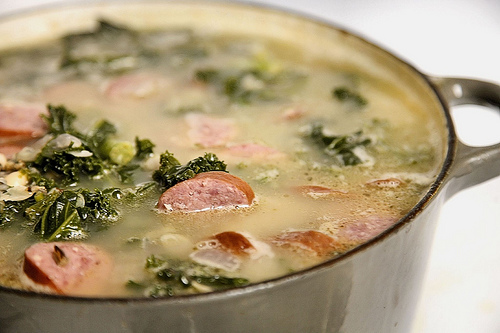 This Portuguese kale soup is one of the best Portuguese soups you can have. The best thing about this soup is that you can add any veggies of your choice such as turnips, squash, carrots or cabbage. For better flavor, you can add sausage, chicken broth, and tomato sauce. This Portuguese appetizer is absolutely perfect for rainy season.

 
These quick and easy Portuguese appetizer ideas can be made very fast and are very scrumptious. You do not have to spend half a day making these dishes. Try these Portuguese appetizers and see your family enjoy the meal.
Image credits: www.acquiredflavor.blogspot.com, www.ifood.tv, www.urbancrate.com, www.chefsebastiancarosi.blogspot.com & www.kathleenjbade.blogspot.com

 
Portuguese Appetizer Ideas