Brisket Menu

26 Jul 2011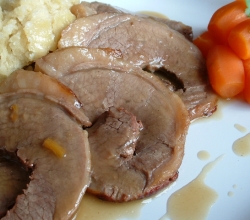 A brisket menu will appeal to several people both for its taste and cost compared to other roasts. It is a versatile meat that can be cooked like a pot roast or spiced up and shredded for cultural cuisine or BBQ. The main downside to brisket is that it is not as tender as other cuts. Yet, when cooked correctly this is easily compensated for and passes for a flavorsome and tender meat. Here are some great brisket menu ideas.
This BBQ Pork is sure to be a huge success at your next family gathering. The secret to its success is to marinate it overnight in a special concoction of seasonings. It's so easy; it will cook itself while you are busy with other chores. Marinate the pork brisket for 12 to 24 hours in the refrigerator to dispense the seasoning. Cook on low for about ten hours, or until the pork is tender and can be pulled apart easily with a fork. A slow cooking time tenderizes the pork and lets the seasonings mix together throughout the meat.

 
Crock Pot Brisket
Corned beef brisket is a combination of brisket and rump or brisket, rump and round cuts of beef. These cuts are not very tender and need long cooking time in a method that infuses moisture. Use of a Crock-Pot slow cooker to make corned beef brisket is ideal because moisture generated from liquids or vegetables cooked with the meat remains inside the Crock-Pot creating a steam that helps in cooking and adding moisture to the brisket. Layer the crock pot with carrot, potatoes and leeks to encircle the brisket. The vegetables will discharge juices during the cooking process adding moisture and taste to the brisket.

 
When smoking a brisket with paprika, try to find Hungarian paprika. It is the most tangy, rich type you can buy. Paprika releases both color and flavor when heated, so slow cooking is ideal for liberating its flavors and aromas. If you are using another type of paprika, be conscious of the fact that some companies add spices such as cayenne pepper to add heat, so the taste of your finished brisket won't be authentic.

 
Pickled Brisket
Beef brisket is a cut of meat that comes from the brisket section of a cow. This pickling procedure takes three days, which does not include the cooking time.  For pickling you will need, pepper, pickling spice, juniper berries, coriander, bay leaves, thyme, and garlic.
We hope that these dishes must have sounded exciting enough for you to get started on this brisket menu right away. You can always play around with spices and seasonings to create something innovative of your own.
Image credits – ifood.tv

 
Brisket Menu