Pomegranate Menu

25 Jul 2011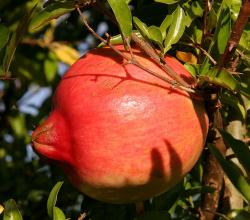 A pomegranate menu can be chockfull of extremely surprising and appetizing dishes. This fruit makes for a great marinade base, its juice is excellent to drink by itself, the fruit is full of health benefits and cooking with it can indeed be a pleasure. Read on for some exciting pomegranate menu ideas.
The martini began as a simple cocktail of gin, vermouth and a lemon twist, but has become so much more at the hands of talented mixologists, true chefs behind the bar. Martinis are now more popular than ever due to new creative and delicious drink recipes. One such martini recipe has become so popular that it's garnered a coveted spot on Oprah's Favorite Things list. This pomegranate martini recipe is destined to become a phenomenal favorite the moment it touches your lips.
Pomegranate Pie
Pomegranate pie is one way to enjoy the fruit in the fall and winter months when it is in season. The bright red color of the fruit lends itself well to creamy pie filling, and the juice is high in antioxidants. These antioxidants may improve heart health so you don't have to feel too guilty about having an extra slice. This dish does require gelatin so its probably not suitable for vegetarians and vegans unless you can get a hold of kosher gelatin.
Chick Pea Curry Seasoned with Pomegranate Powder
Pomegranate powder is used in many Indian recipes to give the food a flavorful and tart taste. It is most commonly used in recipes with chutneys, lentils and curries. Dishes that use pomegranate include chick pea curry and chicken curries. It's also used to add taste to stews and soups. The powder is prepared from the sun-dried seeds of the pomegranate fruit and can be swapped for tamarind.
Salad with Pomegranate Balsamic Vinegar
Pomegranate balsamic vinegar makes a fantastic salad dressing, but it can be used in just about any way you like. What was once an unusual cooking ingredient can now be made easily at home.  Actual pomegranate juice is used to make the vinegar and it can be found at most supermarkets and local health food stores.
Pomegranate Juice
Of course, the most obvious thing to make from this wondrous fruit would be fresh pomegranate juice. Full of antioxidants and a million other health benefits, this is a great drink for your family and friends and ideal to have with a meal or to replenish your body after workouts.
I'm sure you can't wait to get started on making some of these fabulous dishes. This pomegranate menu is nothing short of mouth watering and is sure to win you a lot of accolades from the eaters.

 
Image credit - ifood.tv
Pomegranate Menu