Prune Menu

25 Jul 2011
Don't get daunted while creating a prune menu. Prunes be relished plain, right out of the container, but their flavor and texture complement plain dishes that help you start your day out on a healthy note, or present you with a snack that's nutrient-rich rather than being calorie-laden. Here are some fantastic dishes for a prune menu.
Braised Pork with Prune and Brandy Sauce
Braised pork with prune and brandy sauce is a rich, flavorful dish that combines the culinary ideas and ingredients of different areas, including Germany, Belgium, the Netherlands and France. Braised pork with prune and brandy sauce is such a complex dish that some may not have the refined palate for it. Those who are daring and willing to try a dish that blends some of the most intriguing flavors and textures found in fusion cuisine will be greatly rewarded. Before serving, Pour the sauce over the pork and sprinkle fresh chopped parsley over the top. Serve immediately with vegetables of your choice.
Lamb and Prune Tagine
This one of the most vivid, flavorful and innovative Morrocan dishes. This customary tagine dish combines a delightfully balanced mix of salt and sweet. Savor this dish with some baguette, cousous or rice. You will need a variety of spices for this dish like ginger, pepper, cinnamon, turmeric, cayenne, coriander, cardamom, nutmeg and cloves. Cook the meat on slow heat with some prunes, almond and honey which is what really thickens the sauce. To end the meal with style, serve tea with fresh mint leaves and some baklava.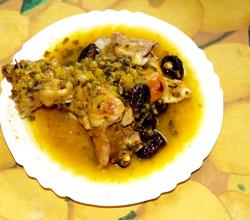 On the table, prune butter is used as a condiment for bread, like peanut or apple butter. It can be added to rich or sweet sauces, to add flavor and consistency. Fresh, warm prune butter can also be eaten like dessert pudding. Prune butter is also a feasible substitute for those who can't or don't eat dairy and need a substitute for cow's butter.

 
Prune and Apple Jam
Apple-prune jam combines the tartness of apples with the strong, concentrated sweetness of prunes. Both fruits are great sources of dietary fiber, and have been shown to be useful in thwarting the buildup of cholesterol in the blood. Spiced apple-prune jam can be made using Granny Smith apples

and pitted dried prunes that are easily found in most supermarkets. The jam can be stored in jars in the refrigerator just about three weeks.

 
Have fun with these dishes, they are pretty unique as not very many people would have experimented cooking with prunes. You will definitely have people coming back for seconds!
Image credits – healthcaremagic.com; ifood.tv 
Prune Menu