10 Easy Duck Starters
22 Jul 2011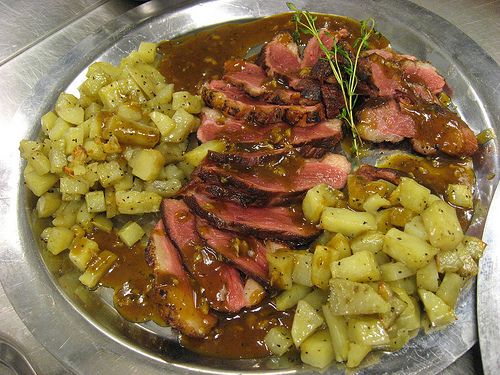 The luscious duck starters are perfect appetizers for an elegant dinner party or special occasion. Ifood presents a wide assortment of duck appetizers, which will wow your guests. Delve into this write-up on various duck appetizer ideas to know more...
Top 10 Easy Duck Starters
1. Duck Heart Salad with Wild Mushrooms
In this attractive salad, full-flavored oyster, and girolle mushrooms are combined with slices of tender duck and salad greens, with a fresh sherry vinegar dressing. Duck meat is in fact very lean, once the thick layer of fat and skin has been removed.
The distinctive duck flavor of this starter, heightened by the taste of figs, is perfectly complemented by the orange, mustard, and sour cream. A small amount of duck fat is included, yet this is a healthy way to start your meal.
3. Duck And Pear Salad With Mango Chutney Dressing
This salad is quick and easy to put together and tastes fabulous. Roasted duck is tossed with celery, scallions, and orange zest, and seasoned with salt and pepper. The mango chutney dressing renders tanginess to this simple salad.
4. Breast Of Duck With Raspberry Mayonnaise
The duck breasts, watercress, and water chestnut are tossed in a mixture of raspberry vinegar with mayonnaise, chilled, and served. This cold appetizer can be garnished with parsley, making it a perfect beginning for your summer meals.
5. Roast Duck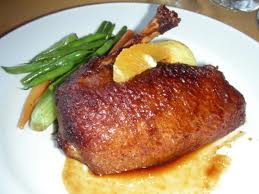 Duck stuffed with sage and onion stuffing and roasted is a great appetizer. Season the roasted duck with salt and pepper just before serving. While roasting the duck, make sure that it is basted continuously with fat. This is essential to give the duck the required crunchiness.
A great tasting appetizer from the French cuisine, this quick, easy to prepare duck appetizer is essential for a winning meal. Duck slices, cooked in a mixture of olives, sherry, lemon juice, gravy, and seasonings, on slow heat leave an aroma, which is sure to lure your guests to this dish. Serve hot with toasts sprinkled with butter and Italian seasoning.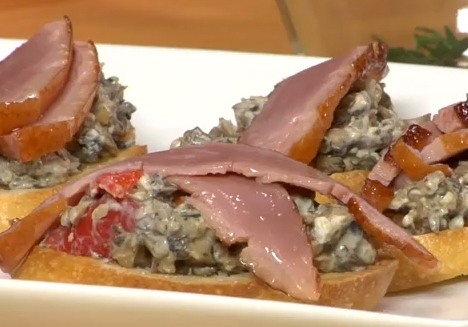 A sophisticated and tasty appetizer, Duck and Mushroom Crostini is a great start to the holiday meals. The crisp toasted baguette slices topped with creamy mushrooms and smoked duck slices are mouthwatering beginners. Easy to make and good to taste, these add fun and festive to you holiday meals. Choose assorted mushrooms, including cremini, shitake, and oyster mushrooms to enrich the starter.
8. King Cole Smoked Duck With Belgian Endive
These duck starters are delicate choices for appetizers. Crispy endive spears spread with creamy herbed cheese and with a slight hint of smoke from the duck breast are simply adorable.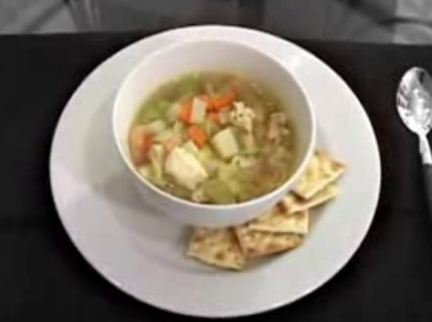 Ducks make a richly flavored, hearty soup. The meat is delicious spooned up with the chunks of carrot, celery, potatoes, and leeks. Add a spoonful of soured cream gives a creamy finish.
This salad is an ideal starter which you can bulk up with apple, extra walnuts, and herbs, to enrich the taste and flavor. Garnish with the remaining walnuts and reserved jicama and celery strips
Choose the duck starters to begin your party the most luxurious way.
Image Credit: pixieofthebees.blogspot.com, ifood.tv 
10 Easy Duck Starters