Australian Appetizer Ideas

21 Jul 2011
Planning to host a big party for your Australian friends? Obviously, you would not like to spend all your time in the kitchen. Therefore, here I am giving some quick and easy Australian appetizer ideas. You can consider these appetizers as they do not encourage you to sacrifice the taste.

 
Australian cuisine is an interesting mix of contrast, with influences from Japanese, Thai, Greek, Chinese, French and Lebanese. Australian cuisine consists of wide variety of seafood and traditional meals such as roast turkey, ham, chicken, plum pudding etc. Let's see some of the easiest Australian appetizers.

 
Australian appetizer ideas:

 
Chiko roll:

 
Chiko roll is a very famous Australian appetizer or snack. It consists of boned mutton, celery, barley, cabbage, rice, carrot and spices in a tube of egg, flour and dough. The roll can be deep fried to make it crispy and golden brown.

 
Caprese salad is the simplest and most delicious Australian salads. The salad is made with local vine-ripened tomatoes which are red, juicy and flavourful. Mozzarella cheese is the most essential ingredient of caprese salad. You can spread the thin slices of mozzarella cheese over the salad as a topping.  Just before serving, drizzle top quality extra virgin olive oil. This will surely enhance the taste of the salad.

Savoury puffs are the mouth watering Australian appetizer for your guests, especially the kids. You can get the pastry sheet from any supermarket and spread the cheese, meats or any of your favourite ingredients. Bake the puff in your oven and serve with any spicy sauce.

 
Chicken satay is a delicious Australian appetizer which is made with chicken. Strips of chicken need to be marinated in a special Thai paste, then skewered and grilled on BBQ. You will definitely fall in love with this dish because of its yummy taste. It is the perfect party food. Serve this appetizer with homemade peanut sauce.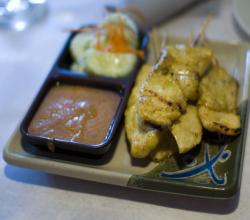 If you are looking for seafood appetizer, then your menu cannot be complete without peppered calamari. It is the yummy Australian appetizer which can impress your guests and family. The dish tastes superb if grilled on the barbecue. The best part of this dish is the fact that it can be served as a main course meal also along with rice and salad.

 
I am sure this list of Australian appetizer ideas is going to be a super fire hit amongst your friends and family members.

 
Enjoy cooking!!

 
Image credits: ifood.tv 
Australian Appetizer Ideas