10 Easy Goat Cheese Starters
20 Jul 2011
Be it a salad or Crostini, the goat cheese starters are delightful ways to please your guests. Ifood presents to you some amazing, yet easy goat cheese appetizers, which have been exclusively chosen to satiate the palate of all kinds of eaters. Read on to know more about these exotic goat cheese appetizers…
Top 10 Easy Goat Cheese Starters
This is a delightfully simple salad, yet so sophisticated and flavorful. This goat cheese appetizer makes for a lovely starter for your lunch. Use the softest, freshest goat cheese you can find to enrich the taste of this crunchy goat cheese starter.
2. Herb Goat Cheese & Beet Salad
If you wish to offer a sophisticated appetizer, but which is simple to prepare, then this herb goat cheese and beet salad is the right choice. It is as delicious as it looks, offering visual and palate treats to the eater. Serve as a light starter before a meatless main course.
The best part about these tasty goat cheese starters is that except for roasting a head of garlic, there is no cooking involved. When this delicious Goat Cheese Torta is sliced, it reveals beautiful colorful distinct layers. Serve with assorted saltine crackers or Melba toast, or crudite.
4. Piquillo Peppers Stuffed With Orange Cumin Goat Cheese
A superb "tapa" from the North of Spain, it is very popular. And, when the stuffing is a creamy, tangy mixture of orange and goat cheese, the simple tapa truly forms an elegant appetizer fit for a classy dining experience. So, try it today.
5. Eggplant With Herbed Goat Cheese
This is an elegant first course for gourmet home cooks. Tongue and texture teaser, these tasty goat cheese appetizers is the perfect blend of creamy grilled eggplants, goat cheese, and the fresh green salsa verde topping.
6. Smoked Salmon And Goat Cheese Sandwiches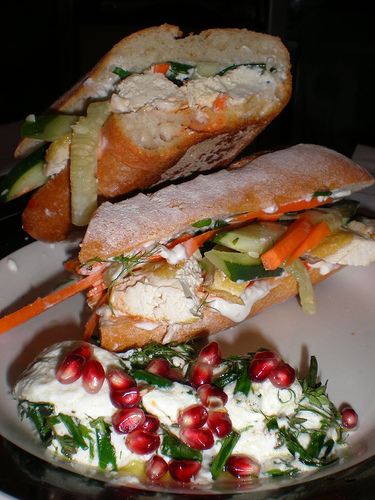 These smoked salmon goat cheese sandwiches are among the party favorites. Easy to prepare, easy to put together, and easy to nibble, these delicious goat cheese starters are ideal finger foods for your winter party.
7. Roasted Chicken Salad with Goat Cheese Crostini
The Italian Roasted Chicken Salad with Goat Cheese Crostini brings in the real delight while cooking, serving, and relishing. You just need 60 seconds to prepare this tasty starter. Save time and effort on hot days with a wonderfully easy salad. It uses ready-roasted chicken. Enjoy with a splendid goat cheese Crostini.
8. Lemony Potato Broccoli & Goat Cheese Salad
This compelling tangy goat cheese salad is the perfect appetizer to impress the fussiest of the eaters. Right from the European cuisine, this mouthwatering appetizer brings in the goodness of potato and broccoli in it.
A good choice for appetizers, you can serve these goat cheese starters with any choice of beverages. Cut into triangles and serve with the salsa.
10. Goat Cheese and Figs Appetizer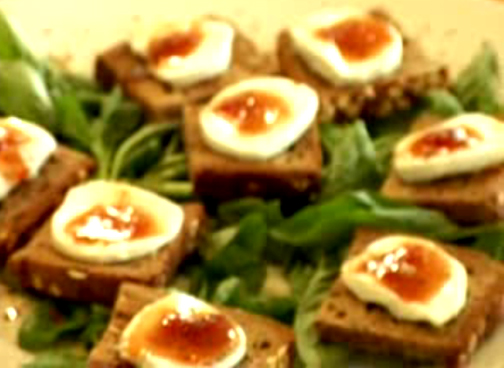 This goat cheese and figs appetizer looks simple, but tastes heavenly. You can whip it up in less than a minute when the guests are waiting for dinner or lunch.
Next time you are planning a party, make sure you try these easy goat cheese starters!
Image Credit: ifood.tv, couturecarrieloves.blogspot.com
10 Easy Goat Cheese Starters