Green Bean Dressing
20 Jul 2011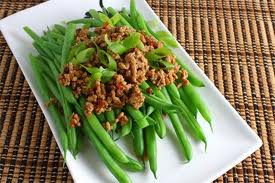 Wondering what to do with the bulk of green beans lying in your refrigerator? Simple, just cut and toss the beans in a bowl, add some nuts and herbs, and blend in yummy green bean dressing and enjoy a salad that is light, healthy, and absolutely guilt-free. Creamy, tangy or mustard spiked, the classic green been dressings makes your entrée taste like a perfect treat. If you are really stuck for ideas on how to make green bean dressing, then the following ideas would bail you out. To know more on how to dress up your green beans, trail the write-up.
Top 10 Green Bean Dressing Ideas
Give your green bean salad a dash of zing with peanut dressing. Packed with goodness and taste of zesty ginger and crunchy peanut, this yummy salad rounds off a healthy meal.
This classic salad dressing composed of fresh garlic, yogurt, olive oil, parsley and pepper gives your boring greens a tasty kick! Appropriate for lunch, brunch, or snack.
Sweet and zesty, this one-of-its-kind of salad dressing perfectly complements your entrée. Mix in Tahini, honey, water, crushed pepper, vegetable oil and lemon juice to stir up this delight.
Nothing juices up your bland green beans than flavor-packed salsa! Made with tomatoes, lemon juice, jalapeno peppers, onions, cilantro and a dash of seasoning, this green bean dressing is unbeatable.
This delicious salad dressing boasts of loads of toasted sesame seeds, mirin, Japanese soy sauce, a hint of sugar and salt. A mouth-watering combo for sure!
Pep up your green beans with the 'oriental' Asian-style dressing. With vinegar, rice wine, soy sauce, sesame oil, and garlic as its key ingredients, this lip-smacking green bean dressing is worth a shot.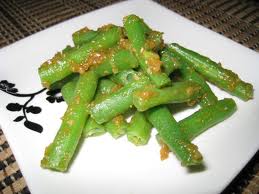 Mildly sweet, light, and crunchy, honey almond dressing is simply unparalleled when it comes to try something 'out of the regular'. Just toss in slivered almonds, lemon rind, lemon juice and pepper to mix up this luscious dressing.
Savory goat cheese mixed with tender green beans make this dressing a huge hit with the foodies. Just whisk in goat cheese, apple juice, lemon juice, lemon zest, garlic and pepper to whomp up this gourmet delight.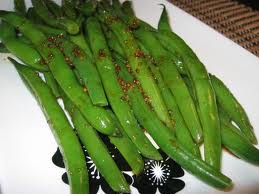 Who can forget the classic Dijon dressing? This zingy dressing oomphed up using Dijon mustards is a sheer treat for the senses.
If you are looking for a salad dressing that is slightly 'out-of-the-box', then pumpkin seed dressing would satiate your taste buds. Using pumpkin seeds as its key ingredient, this dressing is sure to bowl you over.
Try any of these green bean dressing and romp up your boring greens into sheer gourmet delight. Rest assured, your friends and family won't stop going gaga over your newfound culinary dressing expertise.
Image Credits: closetcooking.com
Green Bean Dressing