Mediterranean Appetizer Ideas

20 Jul 2011
Mediterranean appetizers can be the perfect appetizer for any elegant party or get-together. Here you will find some delicious and mouth watering Mediterranean appetizer ideas which will tickle to your taste buds.

 
Mediterranean cuisine is primarily known for its Italian and Greek dishes, but there is actually much more to this very unique cuisine. Mediterranean style typically has a more tropical flavor to it and involves the uses of pesto, tomatoes, olives and spinach.

 
Mediterranean appetizer ideas:

 
Mediterranean pumpkin soup is the best pumpkin soup I have ever had. While preparing this soup, you can chop the fresh pumpkin and fried it. Then you can slowly boil the pumpkin with some spices and herbs. The pumpkin will soon transform into an elegant soup.

 
Tzatziki is a popular Greek appetizer which can be made with strained yogurt mixed with cucumbers, garlic, salt and olive oil. With cool and creamy texture, this tangy dip is the perfect complement to grilled meats and vegetables. You can also enjoy the tasty tzatziki with pita bread.

 
Baked chevre is an easy Mediterranean appetizer which I am sure will impress your friends and family. You will not take much time to make the baked chevre. Just you need to pour the sauce and add slices of chevre ( chevre is a cheese made from goat's milk) on top of it. Bake for 10 minutes and your delicious appetizer is ready to serve.

 
Black olive pate is a lovely Mediterranean appetizer in which the spicy olives get flavored with roasted garlic and Fontina cheese. It is a must try dish for your next themed party.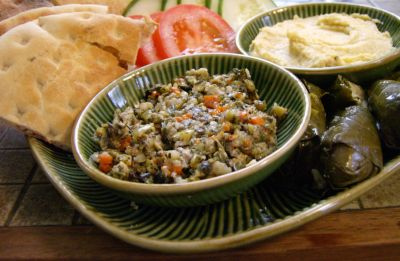 Mediterranean dip is a very healthy dip which I am sure going to be a hit appetizer for your next party. The dip is made with sun dried tomatoes, artichoke hearts and capers which have been blended with feta cheese.  The taste of this dip will become double when served with plain crackers. And last but not the least; do not forget to garnish the dip with fresh basil leaves.

 
So, next time if you are in mood for Mediterranean cuisine, try any of the above mentioned Mediterranean appetizer ideas.

 
Happy cooking!!

 
Image credits: www.ifood.tv, www.thesaucycoconut.blogspot.com 
Mediterranean Appetizer Ideas