Korean Appetizer Ideas

20 Jul 2011
Want some change from the regular Chinese and Indian food? Why not try making Korean appetizers instead? In this article you will find some of the best Korean appetizer ideas which are simple to make and delicious at the same time.

 
Korean cuisine is basically focussed on rice, noodles, tofu, vegetables, and meats. The most commonly ingredients used in Korean dishes include sesame oil, soy sauce, salt, garlic, ginger and pepper flakes.

 
Come; let's see some of the easiest and tastiest Korean appetizers.

 
Korean appetizer ideas:

 
Soup is always considered to be the best appetizer in every cuisine, be it Chinese, Caribbean or Korean. This Korean soup is made with meat and seafood along with vegetables. While making this soup, you need to simmer the soup on low heat for few minutes so that the aroma of the soup gets perfectly blended with other ingredients as well.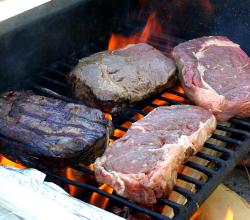 Korean steak stick is a great summer appetizer which can become a part of your meal. There are various ways of making steak stick. You can either broil or grill the steak sticks. Serve this appetizer with any homemade sauce…its delicious indeed!!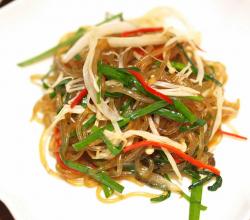 Japchae is a typical Korean appetizer made with cellophane noodles. You can stir fry these noodles in sesame oil along with vegetables of your choice. Flavor the dish with soy sauce and if you like little bit of sweet taste in the dish, add sugar. You can really enjoy the dish when hot.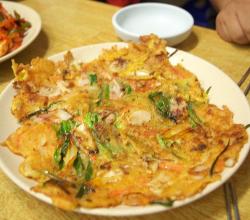 Pajeon is another scrumptious Korean appetizer which consists of variety of jeon and green onions. It is a pancake like dish prepared from the egg batter. It is the ideal appetizer which can be enjoyed during rainy days with your family. Pajeon can be traditionally paired with rice wine "makgeoli".

 
Kimchi is the most renowned and well known Korean appetizer. It is a traditional dish of Korea made with vegetables and varied seasonings. Kimchi is usually fermented in a brine of anchovy sauce, garlic, ginger, chilli pepper and green onion. Serve kimchi with steamed rice. This is the most typical and yummy way to serve kimchi.

 
With these simple Korean appetizer ideas, your family and friends will definitely get impressed by your cooking skills.

 
Have a great time!!
Image credits: www.ifood.tv 
Korean Appetizer Ideas