Filipino Appetizer Ideas

20 Jul 2011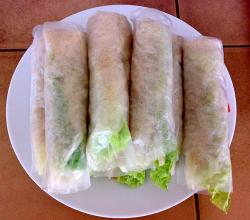 If you are looking for Filipino appetizer ideas, you have got it!!

 
Yes, this article talks about various delicious and simple Filipino appetizers. Filipino cuisine is always distinguished by its unique combination of sweet, sour and salty flavors. Famous Filipino foods can be found across the Philippine islands, as well as in the US and other countries.

 
Famous Filipino appetizer ideas:

 
Batchoy:

 
Philippine is famous for variety of soups and Batchoy is one of them. Batchoy is a noodle soup made with pork organs. You can garnish the soups with pork cracklings, vegetables and cracked raw egg. It is really a truly tempting treat.

 
Lumpia is a fried spring roll kind of appetizer very famous in Philippines and Indonesia. Although the dish has been brought by the Chinese immigrants from the Fujian province of China to Southeast Asia, it is very popular in Philippines. You can use ground pork, beef or vegetables for filling the lumpia. It tastes great when served with sweet and sour sauce.

 
Maruyang Saging (Banana fritters):

 
Maruyang Saging is a kind of banana fritters which can be served as a tasty Filipino appetizer. It is usually made with ripe and thick bananas which has been battered and deep fried. Make sure to deep fry these banana fritters until they become golden brown. This will give the crunchy and crispy texture to the fritters.

 
Chicharon is yet another mouth watering Filipino appetizer which is made with fried pork rinds. You can also make this dish with chicken, mutton or beef. Garlic, oregano and lemon are the best seasoning agents for chicharon. Serve this dish with llajwa, a tomato salsa, and mote, a kind of corn.

 
Tokwat baboy is a Filipino appetizer made with boiled pork and fried tofu. The soy sauce and sauce made with vinegar gives life to this dish. If you have the taste of sweet, then you can add few tablespoons of sugar in the vinegar-soy sauce mixture. Beer and wine are the best accompaniment for this yummy appetizer.

 
Hope after reading this article, making the above mentioned dishes is not a difficult task. Just experiment with different mix and match combinations of ingredients and I am sure you will come up with some great luscious Filipino appetizer ideas.
image credits:  www.ifood.tv, www.fuckyeahfilipinofoods.tumblr.com 

 
Filipino Appetizer Ideas