Scampi Menu
20 Jul 2011
You may feel a bit daunted at the thought of creating a scampi menu since scampi is something most people tend to only eat at restaurants, and rarely make at home. What you may not realize is that you can cook it yourself at home quite easily. Here are some great ideas for a scampi menu.

 
Shrimp scampi is one of those dishes that we don't eat all the time but absolutely love when we do. Shrimp scampi is a butter- and herb-infused seafood meal that can be served alone as an appetizer or served over pasta as an entree. Remember to add chopped parsley, salt and pepper, and cheese before serving over your favorite pasta.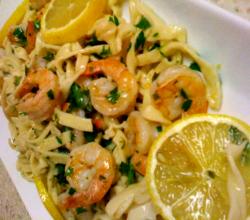 Greek Style Scampi
Greek shrimp scampi is commonly served in restaurants or home-cooked, with or without pasta. It is generally served as an appetizer without pasta and with a wide noodle like tagliatelle or fettuccine for a main course. Greek-style scampi can be served warm or cold, and it is ideal for barbecues and potlucks, as it can be prepared ahead of time and kept in the refrigerator until needed. Top the scampi with freshly chopped flat-leaf parsley and serve straight away or cover the dish with plastic wrap and refrigerate for up to eight hours before serving.
Garlic, Lemon Scampi
Shrimp lovers often relate "scampi" with a specific cooking technique, but scampi is also the name for a type of small lobster. Whether cooking shrimp or this specific kind of lobster, you'll find garlic and lemon suitable ingredients for a pan-cooking recipe. The key to prepare this dish scampi-style without overcooking the seafood is to simmer the ingredients. Preparing this dish and serving it hot in the pan will be visually attractive and appeal to the stomach as well. Serve the dish hot over spaghetti noodles or with garlic bread.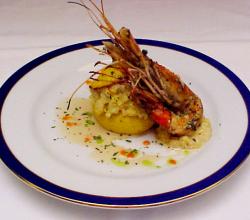 Barbecue Shrimp Scampi
Shrimp scampi is a delicious dish that is simple to make. You basically just sauté the shrimp in butter with a few herbs and serve it to the guests. If you want to really spice up your shrimp scampi, turn that butter into a delectable barbecue sauce before you cook the shrimp. You keep the subtle taste of the shrimp scampi but add a modest bite from the barbecue flavors.
The wonderful flavors and spices of these dishes will leave your guests wanting more, that is a guarantee. Look out for the freshest of ingredients so that you don't compromise on the taste of these dishes. Have fun cooking!
Image credits – ifood.tv

 
Scampi Menu