10 Easy Scallops Starters
19 Jul 2011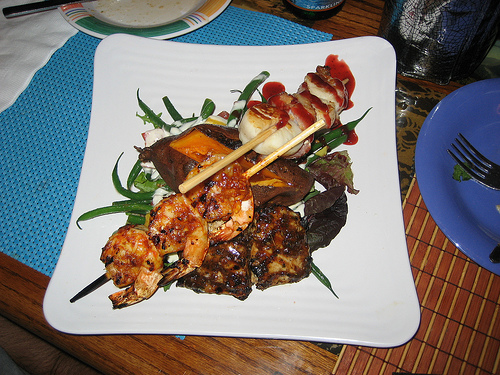 Scallops are delicate, flavorful, and light, and it looks as if they have been made to prepare delightful starters! Ifood presents to a wide assortment of elegant but easy scallops starters. Read to know more about these tasty scallop appetizer ideas…
Top 10 Easy Scallops Starters
1. Jamon Wrapped Diver Scallops with Piquillo Pepper Salad
Preparing these tasty scallop starters is not as complex as the name sounds. Just make sure that the jamon is wrapped around scallop sides. This will ensure that the scallops are seared and caramelized in the best way. You can even try wrapping scallops with prosciutto or bacon.
Kabobs are exclusively meant to add a note of festivity and fun to outdoor entertaining parties. They can be easily assembled ahead of time and grilled just before serving. Moreover, when they are made of scallops, the taste, and aroma is simply delicious.
A delicious soup, the preparation of this appetizer is not at all complicated. The chowder is made from chicken stock, bacon, scallops, onions, wine, corn, and cream and flavored with paprika, leek, celery, and garlic. Garnish with crumbly, crispy bacon and serve hot to warm the chilly nights.
4. Bay Scallop and Mango Ceviche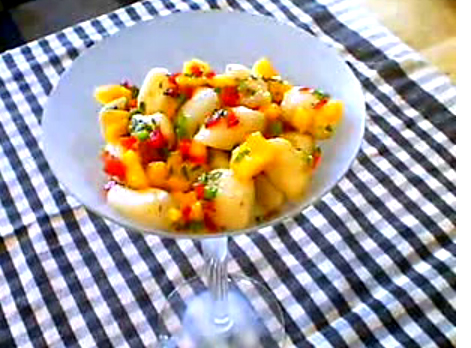 An excellent appetizer for the seafood lovers, the Bay Scallop and Mango Ceviche hails from Peru. Just mix all the ingredients and then toss them, after the mixture is allowed to chill for about 1 hour. Your tasty scallop starter is ready to be served. This tasty and healthy scallop appetizer can win the hearts of your guests.
This quick and bold, yet fresh and tasty scallop salad is an ideal starter for the summertime parties. Invest less time and have a great outing with these relishing and healthy scallop appetizers.
Here is a tasty appetizer for a great brunch or any time snacking. Fresh scallops flavored with assorted herbs taste heavenly. A light lemon-and-herb mixture accentuates the sweet, luscious flavor of the scallops.
Scallops are quick to make and full of flavor. No one can eat just one! Serve with lemon wedges or Tartar Sauce. Add a little seasoning of your choice, including dried, powdered herbs and dipping sauces and you will transform this simple scallop appetizer into something special.
The secret to the ideal barbecued scallop is that lesser the barbecuing time is, the tastier the scallops are. Scallops have a delicate flavor that can easily be overcome during barbecuing. Just spend 10 min for preparing these tasty appetizers.
Simple ingredients and easy preparation makes deviled scallops a party favorite. While butter renders the creaminess, cayenne, mustard, milk, and salt adds to the flavor.
The scallop starters have a great flavor. The tanginess rendered by adding lemon juice at the end makes these an excellent choice for starters.
Next time you throw a party, try these scallops starters and treat your guests!
Image Credit:  ifood.tv, labofedibles.wordpress.com, howitcook.blogspot.com
10 Easy Scallops Starters