American Appetizer Ideas

19 Jul 2011
551445-apple-curry-turkey-pita.apple-curry-turkey-pitaAmerican appetizer is quite renowned for its exotic ingredients and flavors. In this article, let us delve into the scrumptious world of popular American appetizer ideas.

 
The American cuisine is very interesting and attractive. One of the main secrets of American food is tradition: there are many dishes which have been inherited from one generation to another.

 
Let's see some of the best American appetizer ideas.

 
American appetizer ideas:

 
Apple curry turkey pita:

 
Apple curry turkey pita is a delicious and easy American appetizer. It is a great dish to make with your turkey leftovers. It is an ideal blend of olive oil along with lemon juice and curry powder. Instead of using lemon juice, you can also use the white wine for more enriched taste.

 
Basil scallops are the easiest American appetizer to make. Here I wanted to tell you a secret of making yummy basil scallops: you can soak the stark white scallops in water for few hours before you actually make the dish. This will add extra flavor to the dish. Enjoy the basil scallops with artichoke hearts or roasted tomatoes.

 
There could nothing be better than a bowl of cream of tomato soup on a chilly day. This cream of tomato soup is very easy to make. It is a rich delight with the exotic taste of fresh plum tomatoes and a dash of cream as a topping. I am sure this healthy soup will soon become favourite of your family.

 
Sauerkraut balls are the traditional American appetizer which can be found in every household of Northeast Ohio. It is a fermented cabbage dish which have been filled with sauerkraut and other assorted goodies. Shape them into small size balls and deep fry them until they become golden brown.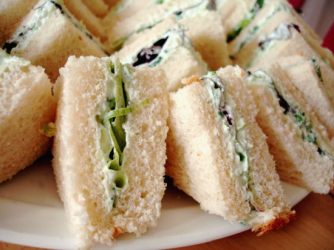 Best cucumber sandwiches:

 
Cucumber sandwiches are the very light American appetizer composed of thin slices of cucumber placed between two slices of bread. You can also put thin slices of cheese and spread some mayonnaise on the bread slices. Cut the sandwich diagonally twice, creating four smaller triangular sandwiches.

 
Thus this is all about American appetizer ideas. You do not need to be a gourmet chef to prepare these dishes. Little creativity is required and you are sure to fall in love with these lovely dishes.

 
Image credits: www.celticheartquiltingandknitting.blogspot.com , www.ifood.tv & www.fun-tea-party-ideas.com
American Appetizer Ideas