10 Easy Prawns Starters
18 Jul 2011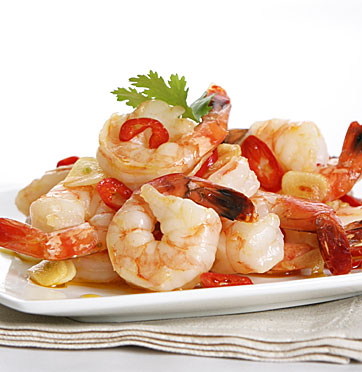 Do you love prawns? Are you searching for some easy and exclusive prawns starters for a special meal or dinner party? Then, you are at the right place. Ifood presents you 10 easy prawns starters that will make your party a highly accolade one. Read on to know more…
Top 10 Easy Prawns Starters
The classic touch to the prawns! This simple, easy to prepare appetizer is often the most sought among prawn appetizers. Enrich your taste buds with these garlic-flavored prawns and feel mesmerized.
This gusty, hot salad is an ideal way to lift up your spirits during the cold winter nights. The gorgeous blend of prawn and sweet corn nibbles, flavored with Dijon mustard, lemon juice, Greek yogurt, and herbs, offers a tasty starter to your winter party.
These spicy prawns starters are treats to the prawn lovers. Prawns grilled with green chilies and seasoned with coarse salt make a flavorful start to any party. Even the choosiest of your guests will love to munch on these zesty prawn appetizers.
The perfect antidote to the blasting hot summer! Words fall short to describe the delicious prawn starters that are served in tall glasses. Dressed in a mixture of mayonnaise, tomato ketchup, and Tabasco sauce, these tasty appetizers are sure to make your dull spirits come alive.
Prawns cooked in a chunky, fresh tomato and chicken soup, this simple, easy to prepare appetizer gets its delectable taste from the blend of red wine, butter, and the assorted spices. All you need is some crusty bread for a delicious summer meal.
6. Prawn Kebabs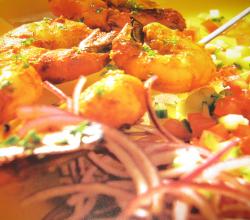 Marinated in a mixture of seasoned oil, lemon juice, garlic, chili, and sage along with mushrooms, Prawn Kebabs are sure to entice any eater - fussy or easy. Use the freshest of prawns available.
7. Prawn Fry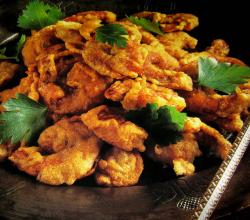 Marinated in a mixture of soya sauce, sherry, MSG, salt and black pepper, these starters are deep-fried after dipping them in the delectable blend of plain flour, corn flour, baking powder, oil, salt, white pepper, egg, and MSG. The sesame seeds sprinkled atop batter-dipped prawns gives it a crunchier appeal.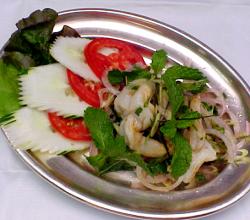 Macaroni rings stuffed with prawn mixture, prepared from the blend of prawns with sherry, tomatoes, and tomato sauce, these rings are sure to be pleasing delights to your taste buds.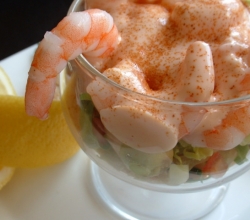 Caribbean Prawn Avocado is a tasty appetizer which needs just 20 minutes. Try it today and experience the taste which goes beyond words. s
10. Crab, Prawn & Ginger Spring Rolls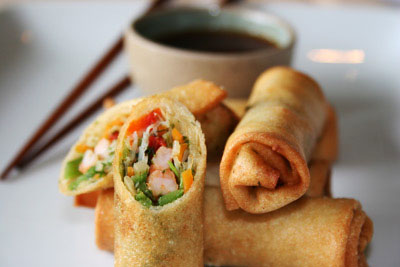 Add a Chinese touch to your party with these refreshing spring rolls. Quite different from general spring rolls, these come with a refreshing burst of flavors and textures.
Make sure you try these tasty and easy prawns starters the next time you throw a party!
Image Credit; ifood.tv, dailydallianceswithfood.blogspot.com
10 Easy Prawns Starters