Couscous Menu
18 Jul 2011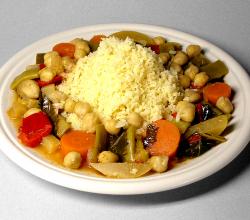 A couscous menu should spring to mind a delicious summery, food spread. The obvious dish that most of you would think of it the healthy couscous salad but there is so much more that you can do with this North African ingredient; it can be eaten hot or cold and you can even use it for dessert! Read on for some delightful ideas to make a fantastic couscous menu.
Tunisian Couscous Salad
Here's a spin on the traditional couscous salad. One thing that you must be careful with is to not overcook the couscous by pouring on excess boiling water. Otherwise, this salad is very tolerant. It allows you to fiddle with seasonings and substitute other ingredients almost at will. Diced and grilled vegetables, sautéed button mushrooms, and grilled or poached chicken are just some of the ingredients that can be added to this salad. This dish can easily convert into a main course.
Sweet Couscous
Wondering how you can use this pasta to create an innovative dessert? This dish is supremely savory due to variety of dried fruits and spices that go in it. With raisins, a plethora of nuts, and cinnamon, this dessert is rich and sinful. It can also work as a side dish to accompany roasted meats. This dish is versatile, if you don't have nuts at home you can even use cherries and dried cranberries and they work just as well.
Smoked Salmon Couscous Sushi
Another unique dish to make with couscous, in fact even a sushi lover may not have had the opportunity to try one cooked with some couscous. The rice is basically being replaced with couscous and that is what makes this dish to special. It will give the sushi a distinctive taste. Remember to cook the couscous with some lemon zest, lemon juice and stock to give it an extra special flavor.
Chorizo and Couscous Stuffed Marrow
Now this dish can be customized for vegetarians and vegans by substituting the chorizo with tofu, so do keep that in mind. You basically need to cut the marrow vertically, hollow them out and that's where the stuffing goes. This dish takes about 20 minutes in the oven till the marrow gets tender. You can add vegetables like peppers and onions and herbs like mint, parsley and coriander to the couscous to enhance flavor.
Hope these ideas will have you excited about wanting to get started on a couscous menu right away. Remember to buy the freshest ingredients when possible to get the most out of these dishes.
Image credits – ifood.tv 
Couscous Menu