Middle Eastern Menu

17 Jul 2011
Middle Eastern Menu also known as West Asian Menu comprises a large variety of dishes collected from the various countries and people belonging to the Middle East. Olives, honey, parsley, chickpea, mint, pitas and dates are commonly used in Middle Eastern Cuisine. The cooking techniques in the Middle Eastern cuisine differ from region to region depending on the availability of ingredients. Enjoy some exquisite delicacies of the Middle Eastern Cuisine.
Breakfast ideas in middle eastern menu:
·         Musakhkhan(Palestinian Chicken) -  a complete breakfast dish prepared from pieces of chicken, onions, fried pine nuts, cardamom, pepper and flat sheet of white bread.
·         Fava Beans - easy to prepared delicious Middle eastern Breakfast item where fresh broad beans, onion, garlic, fresh cilantro are cooked in olive oil till they become soft but not mushy.
·         Middle Eastern Cucumber Salad - amazingly tempting, nutritious breakfast dish featuring milk, garlic, yogurt, mint leaves, lemon juice, cucumbers, and scallions.
·         Middle Eastern Chicken Stew with Couscous - rich and tasty aromatic broth consisting of onions, tomatoes, juicy chicken pieces, couscous, all spice, bay leaf, and cinnamon.
Lunch and Dinner Middle Eastern Menu Ideas:
·         Stuffed Zucchinis with Yogurt Sauce - mouth savoring Middle Eastern side dish that brings cheer to the table prepared from yogurt, zucchinis, rice, ground meat, pepper, mint and all spice.
·         Spinach Stew - easy, tasty and nutritious Middle Eastern dish that is usually served with rice. Ingredients used in the dish are fresh spinach leaves, onions, chick pea, black pepper, rice noodles and oil.
·         Stuffed cabbage - perfect blend of cabbage, ground beef, onions, grain rice, garlic, cumin, coriander, cinnamon and pepper makes the dish  just perfect for every carving taste buds.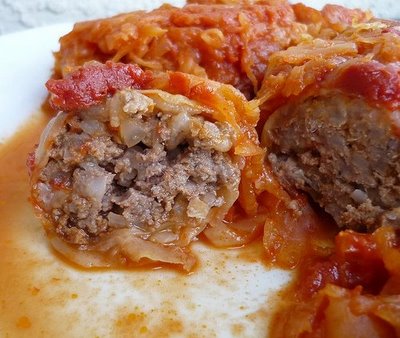 ·         Fresh Herb Kaku- mouth watering Middle Eastern delicacy prepared with eggs, fresh parsley, all-purpose flour, fenugreek, dried berries, garlic, and butter.
Dessert Options in Middle Eastern menu:
·         Qataieyf or Ataieyf- an authentic Middle Eastern recipe where flour is mixed with milk and baked into pancakes which is further filled with crushed walnut and sugar mixture.
·         Chocolate Covered Almonds- Yummy Middle Eastern dessert where milk chocolate is melted over low heat and then combined with almonds making it worth to try!!
·         Basra date Tarts - sumptuous Middle Eastern dessert prepared with dates, oats, yogurt, honey, walnuts and rose water.
·         Date Cookies- all-purpose flour, olive oil, cinnamon, nutmeg, cloves, sesame, yeast and semolina flour are combined together  and baked making it an  addictive Middle Eastern menu option for dessert.
Image credits: popyfoods.com, anothermotherrunner.com, nofearentertaining.blogspot.com, 3hungrytummies.blogspot.com
Middle Eastern Menu