Alsace menu

17 Jul 2011
Alsace menu is all about mouthwatering savory dishes which are prepared keeping in mind, the fragrant wines that are served with them. Local Alsace foods include a wide range of dishes prepared from mushrooms, fresh asparagus and fish from the lakes and rivers of the region. Cereals and vegetables are also used elaborately in preparing everyday as well as special occasion foods in this region.
Alsace menu breakfast options:
Munster – This is served with fresh buns or bread in breakfast. It is a very creamy cheese which is prepared from pasteurized milk and served by sprinkling generous amount of cumin.
Fresh fruits creamed dipped– A bowl of fresh fruits topped with fresh cream makes a common and healthy breakfast of most households.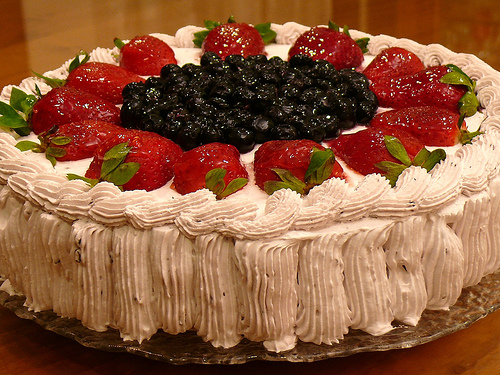 Tarte Flambee – This is a light snack which is often consumed for breakfast. It is actually a thinly rolled bread dough which is well covered with onions, cream and bacon before being baked in a very hot oven.
Lunch and Dinner ideas in Alsace menu:
Choucroute -  The base of this lunch item is white cabbage which is well sliced and salted before cooking. Other ingredients used include smoked or fresh meats, spicy sausages, pork and sometimes beef – the use of which makes the dish quite delicate. Pinot Blanc is often served with Choucroute.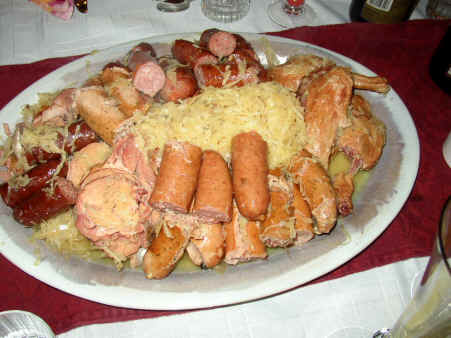 Baeckeoffe – This is a traditional beef stew which is highly flavored and very rich. It is a combination of marinated lamb and beef which is cooked very slowly with vegetables –mainly potatoes and spices. Tokay Pinot Gris is served with this stew.
Charcuterie – This includes a wide number of sausages which are well diced, along with hams, terrines, pates and cured meats which are served.
Pate de foie gras – This is a soft melting goose dish which is prepared in several ways in different places of Alsace. The traditional way is to cook the goose with truffles and then wrap it in a very rich pastry crust.
Dessert options in Alsace menu:
Kugelhopf – This is a traditional Alsace dessert which is a turban shaped sweet roll which is stuffed with nuts and dried fruits.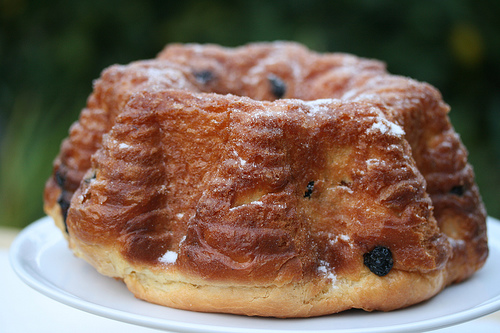 Mandeltarte – Another popular dessert in the form of sweet cake prepared with the use of almonds in abundance.
Alsace menu dishes are quite different from other cuisines of the world and are still to get its popularity as much as Mexican, Italian or Chinese foods.
Image credits: paristokyobistro.com, weimax.com, thingsthatfizz.blogspot.com, flickr, hungerhunger.blogspot.com 
Alsace Menu