Louisiana Menu

15 Jul 2011
Louisiana menu and cuisine is a style of cooking primarily originated in Louisiana. The varieties of dishes in the Louisiana Menu are blend of French, Spanish, Italian and Greek cuisines. Fresh ingredients and lighter preparation make Louisiana dishes healthy and nutritious. Citrus fruits, pepper, beans, tomatoes, and cheese are used extensively while cooking. Listed below are some classic Louisiana dishes.
Breakfast ideas for Louisiana menu:
·         Calas - a fantastic way to start your day; typical Louisiana deep fried rice cake prepared from sugar, eggs, rice, and flour.
·         Eggs Sardou - a perfect filling Louisiana breakfast item consisting of poached eggs, creamed spinach, artichokes, and hollandaise sauce.
·         Grits and Grillades - an ideal dish for breakfast as well as brunch. The ingredients used in the dish are beef or veal steaks, flour, black pepper, onion, bacon, basil leaves, fresh parsley, and hot pepper sauce.
·         French toast (Plain Perdu) -  simple and easy to prepare breakfast dish; bread slices are dipped in beaten egg, fried in butter and served hot.
Lunch and Dinner Louisiana Menu Ideas:
·         Oysters en Brochette - a classic Louisiana dish where raw oysters are skewered and cooked with bacon. Other ingredients used in the appetizer are mushroom caps, lemon juice, butter, and hollandaise sauce.
·         Yakamein - a traditional beef noodle soup, commonly used by the local people of Louisiana, as a cure for hangovers. The tasty dish is prepared from onions, rib celery, mushrooms, beef cubes, Worcestershire sauce, and soy sauce.
·         Turtle soup - authentic  Louisiana delicacy known for its rich herbal taste;  soft turtle meat in the dish is cooked along with onions, pepper, al purpose flour, tomato puree, chicken broth, eggs, lemon juice, parsley, and served hot.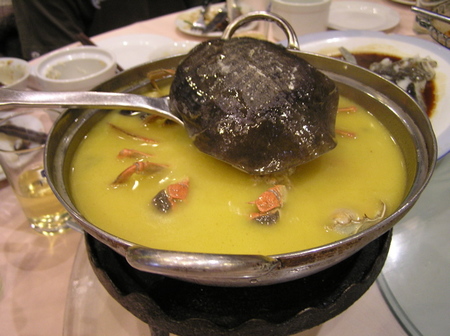 ·         Red Beans and Rice - an emblematic dish of Louisiana where kidney beans, onion, garlic, thyme, parsley, sausage are cooked together and served hot over white rice.
·         Shrimp Creole - a perfect blend of shrimp, tomatoes, celery, bell pepper, Tabasco sauce, and onion make the dish special and perfect, to be served with hot steamed rice.
Dessert Louisiana Menu Ideas: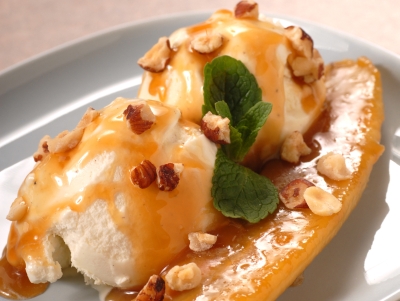 ·         Bananas Foster - yummy dessert prepared with bananas, butter, brown sugar, dark rum, and vanilla ice cream.
·         Pecan Pie - a specialty in Louisiana cuisine, served in variety of flavors with whipped cream. The ingredients used in the dish are pecans, brown sugar, lemon juice, flour, cinnamon, and nutmeg.
·         Bread Pudding - mouth watering bread based Louisiana menu dessert where bread is soaked in a mixture consisting of egg, golden syrup, nutmeg, vanilla extract, dried fruits, and baked in oven.
Image credits: cookinglightrecipes.com, learninghowtocook.com
Louisiana Menu