Jaipur Menu

14 Jul 2011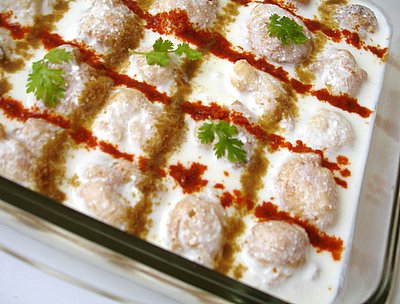 Jaipur is the capital city of Rajasthan, in India and is well known for its mouthwatering cuisine and rich cultural heritage. The lip-smacking dishes from Jaipur menu are mostly vegetarian, nutritious, and pure – having prepared from fresh ingredients. You can try out some authentic jaipur dishes by hopping in any of the eateries located in your city. Some of the popular mouth watering jaipur dishes are listed below.
Jaipur Menu Ideas for breakfast:
·         Dahi  vada - a true Jaipur dish where deep fried urad dal vadas are dipped in whipped yogurt consisting of ginger, green chilies, coriander leaves, cumin powder, and served chilled.
·         Dal-Bati Churma - delicious Jaipur preparation; dal prepared from green gram, black gram, red chili powder, ginger, cumin seeds, cloves, and tomatoes are served along with bati prepared with wheat flour dough and ghee.
·         Chana Dal Paratha - traditional, filling and nutritious Jaipur dish, boiled Chana dal is sautéed along with dhaniya powder and garam masala and filled in small maida dough balls before they are rolled and fried in ghee. The dish is served along with raita, chutney, and curry.
·         Pyaaz Ki Kachuri - all-purpose flour dough in the dish is filled with a mixture consisting of onions, nigella seeds, fennel seeds, green chilies, Bengal gram flour, and deep fried in oil.
Lunch and Dinner Jaipur Menu Ideas:
·         Besan Ka Gatta - besam, dhainya powder, ghee and chillie powder are mixed together in stiff dough before it is steamed and cooked with curd, and other spices.
·         Jaipur Mewa Pulao - yummy dish prepared from rice, sugar, ghee, almonds, pistachios, nutmeg powder, saffron, and milk.
·         Papad Ki Sabji - simple and easy to prepare dish where fried papads are cooked in ghee, along with asafetida, chili powder, curd, and
served hot along with chapattis.
·         Makki Paneer Pakora - blended corn are cooked with milk on low heat until they get a creamy texture. The mixture is then mixed with grated cottage cheese, spices, onion, garlic, and besan before they are rolled into small balls and fried in oil and served hot.
·         Ker Sangri - a traditional Jaipur dish where flavors of dried berries and beans make it even more special. Other ingredients in the dish are yogurt, cumin seeds, dried mango pieces, coriander leaves, ginger, and red chili.
Dessert Ideas in Jaipur menu:
·         Mawa Kachori - A typical Jaipur delicacy; all purpose flour dough in the dish is filled with mava and deep fried in oil or ghee.
·         Jaipur ki Gajak - an authentic jaipur sweet dish prepared from sesame seeds, cashew nuts, sugar, and ghee.
Now, it is your turn to try out Jaipur menu and let us know how you feel!
Image credits: sailusfood.com, gheetel.com allhealthyrecipes.net, food.sulekha.com
Jaipur Menu