Mexican Appetizer Ideas

14 Jul 2011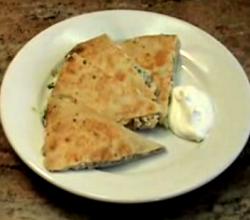 Appetizers are a great way to start off a meal. If you are in search of great Mexican appetizer ideas, then you have come to the correct page. Here you will find some wonderful ideas on Mexican appetizers.

 
Mexican cuisines are well known for its lovely flavor, colorful decoration and variety of spices and ingredients used. Mexican appetizers are usually based on the seasonal produced ingredients. They can be suitable for almost any kind of party be it a get together or an important occasion.

 
Mexican appetizer ideas:

 
Cheese quesadilla is a fabulous Mexican appetizer consists of flour tortilla filled with cheese and other ingredients. It gets even better taste when you add sour cream and rich, creamy guacamole on the side for dipping. This is really a comfort dish with an amazing taste.

 
Nachos make a great appetizer and will make your guests cleaning their plate. It is a yummy Mexican appetizer which consists of tortilla chips covered in melted cheese and salsa. You can add couple of dollups of sour cream and guacamole in the centre of the nachos before serving it.

 
Mexican dip is delightful Mexican appetizer. It is a wonderful blend of beans, tomatoes, peppers, and herbs. You can also use garlic for flavouring the dip. Mexican dip really tastes great when eaten with corn chips.

 
Mexican cornbread is the tastiest cornbread which you can make in your own kitchen. You can make this cornbread with cheddar cheese along with some chopped green chile peppers. Try this easy appetizer and impress your family with your cooking skills.

 
Taco dip is the Mexican delight topped with a layer of vegetables, smothered in cheese and garnished with black olives. You can even make this appetizer with low-fat ingredients such as low-fat cream and low-fat cheese. No matter what ingredients you are using, it always comes out delicious. This quick and colourful dip is sure to become your family favourite.

 
You can make number of changes to the above mentioned Mexican appetizer ideas. For example, while making quesadillas, you can add chicken or other vegetables depending on your choice. At the same time, you can even change the seasonings as per your likings.
Happy cooking!!
Image credits: www.ifood.tv
Mexican Appetizer Ideas