Vegetarian Appetizer Ideas

13 Jul 2011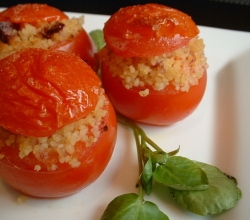 The party has been organized and you are still looking for some vegetarian appetizer ideas? Well this article contains few delicious vegetarian appetizers which would be the perfect treat for your guests.

 
Grilled cheese triangles are the perfect appetizer to be served before the meal. For making the grilled cheese triangles, you can use non-dairy cheese like cheddar flavored soy cheese. You can use sandwich bread or rye bread for making the sophisticated triangles.

 
Herbed stuffed tomatoes are not only delicious appetizer but healthy as well. For making stuffed tomatoes, you can use bright red cherry tomatoes which look attractive when topped with cheese and aromatic herbs. If you are health conscious, use low fat cheese instead of double creamed cheese.

 
Samosa is one of the most popular appetizers which can be prepared at home. Samosas are Indian pastry triangles which can be filled with potatoes or vegetables. You can either bake them in oven or fry them. I am sure your guest will surely like this Indian samosa if served with green chutney.

 
Bruschetta is a very simple vegetarian appetizer which many people are familiar with. Always choose nice, crusty bread so that you do not end up with soggy bruschetta. You can find the Italian simplicity in this bruschetta with fresh tomato, basil and mozzarella.

 
Fried eggplant fingers are amazingly tasty appetizers which can be enjoyed by your family and guests. You just need to cut the eggplant into thin strips and dip them in the batter. Fry them to make them crispy.  These fried eggplant fingers will surely by gobbled up by all, including kids.
I am sure reading this article would have given you enough vegetarian appetizer ideas to last several more parties you may come across this season. All you need to do is to collect the necessary ingredients beforehand to avoid running short while preparing these dishes. Serve them on a nice plate and let your guests enjoy the delicious appetizers.
Image credits: www.ifood.tv
Vegetarian Appetizer Ideas