Punjabi Menu

12 Jul 2011
Punjabi Menu has a diverse range of dishes famous for its spicy flavoring. Punjabi cuisines are specialized in variety of vegetarian and non-vegetarian dishes. Wheat is the staple food of Punjab and you can find a variety of tasty dishes prepared of wheat here. Ghee, butter and cream are liberally used in Punjabi Dishes. Tandoori foods are very famous in Punjabi cuisine. Garlic, ginger and onions are the main ingredients used in Punjabi dishes to make the gravy thick and tasty. Here are some authentic Punjabi dishes that you can try.
Breakfast options in Punjabi menu:
·         Alu Ka Paratha  - boiled potatoes are mashed and mixed with  green chili, jeer, mint leaves, coriander leaves and stuffed in wheat dough before they are fried in butter and served hot with pickles and curd.
·         Puri - wheat flour dough are rolled into small chapattis and deep fried in oil. The dish is served hot with sabji or chhole.
·         Paneer Parantha - an authentic Punjabi dish prepared from wheat flour, grated cottage cheese, onion, coriander, chili paste and ghee.
Lunch and Dinner Punjabi Menu Ideas:
·         Aloo Cholay ki Sabzi - tasty and spicy Punjabi dish featuring onions,  ginger, garlic, boiled chick peas, potatoes, cumin , mustard, tomatoes and  fresh coriander. The dish tastes awesome and is served along with parantha and puris.
·         Kulcha  - flour, baking powder, yogurt, sugar, milk and egg are knead into dough and baked in charcoal oven and served hot after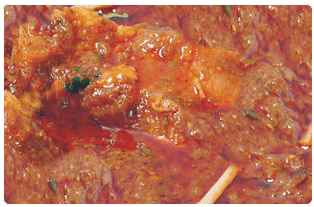 brushing ghee on it.
·         Lamb Chops Hariyali - exotic Punjabi dish made with lamb chops, ginger, lemon juice, sour cream and spices like cumin, coriander, meat masala, fennel seeds.
·         Tandoori Chicken  - chicken pieces are marinated and roasted on grill making it a spicy Punjabi dish, best served with rotis and rice.
·         Mutton Korma - Punjabi side dish  with thick gravy prepared with meat pieces, ginger, garlic, onions, milk, yogurt, and spices like cloves, peppercorn, saffron and cardamom.
 Punjabi Menu Snacks Ideas:
·         Papdi Chaat- an enjoyable , mouth watering  dish featuring papdi, potatoes, chickpea, chaat masala, yogurt, sweet chutney and a spicy green chutney.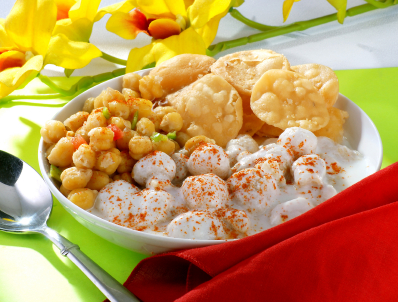 ·         Pyaj Pakora- an awesome much served with tea prepared from onions, coriander leaves, gram flour and chili.
Dessert Punjabi Menu Ideas:
·         Jalebi - popular dish where flour is mixed with water into a creamy consistency fried in oil and dipped in sugar syrup.
·         Gajar ka Halwa  - traditional Punjabi menu dessert that will refresh your childhood days when sweets were prepared from carrots, evaporated milk, condensed milk, ghee and cardamom pods.
Image credits: indianmirror.com, inhouserecipes.com, aakritifoods.com, allhealthyrecipes.net 
Punjabi Menu