Filipino menu

8 Jul 2011
Filipino cuisine is a blend of various style sof cooking, because people in this ethnic group are from China, Spain, and Philippines. Filipino menu is predominated by Spanish additions but recently American, Japanese and German style of cooking has influenced their cuisine. Rice is the staple food here whereas pork is the most popular amongst the meat. Here are some typical Filipino dishes selected from the varying Filipino healthy Cuisine.
Filipino menu ideas for breakfast
·         Filipino Breakfast Casserole - one-dish that packs up all the nutrients required by your body to be active the whole day. The typical Filipino dish that combines meat and vegetable, with a crab base made of rice, bread or pasta.
·         Beef Caldereta (Filipino Beef Stew) - an awesome Filipino dish consisting of minced beef, cheese, onions, green bell peppers, milk, garlic, tomato sauce, soy sauce, and chili peppers.
·         Arroz Caldo (Filipino Congee) - a hot favorite breakfast item  prepared from ginger, garlic, clove, chicken breast, annatto, rice, spring onion, fish sauce, and black pepper.
·         Macaroni salad - boiled macaroni is mixed with mayonnaise, minced onions, cheese, cooked chicken breast, pineapple chunks , pepper and served cold; a perfect health breakfast dish.
Lunch and Dinner Filipino menu Ideas:
·         Pinoy Bistek - tasty Filipino beef steak where marinated beef is cooked on low heat with sauce, and olive oil.
·         Lechon Manok (Rotisserie Chicken Filipino Style) - a popular Filipino main dish; chicken in the dish is baked with parsley, rosemary, thyme, fish sauce, lemon grass, and garlic and lemon juice.
·         Filipino Chicken - an awesome dish that can be enjoyed on a lazy day; prepared from fried chicken, vinegar, soy sauce, garlic, and corn syrup.
·         Spaghetti in Filipino style - a fantastic dish for special occasions; beef in the dish is cooked until it becomes tender and then mixed with onion, garlic, hot dog, spaghetti sauce and tomato paste. The mixture is then combined with pasta, and served with boiled egg slices.
·         Pork Barbecue Filipino Style - pork pieces are marinated using garlic, ketchup, hot sauce, salt, vinegar, onion, soy sauce and corn starch and then grilled in barbeque and served with sauce and salad.
·         Buko Pie - all-time favorite dish consisting of all purpose flour, butter, vegetable shortening, coconut meat, white sugar, coconut water, and evaporated milk.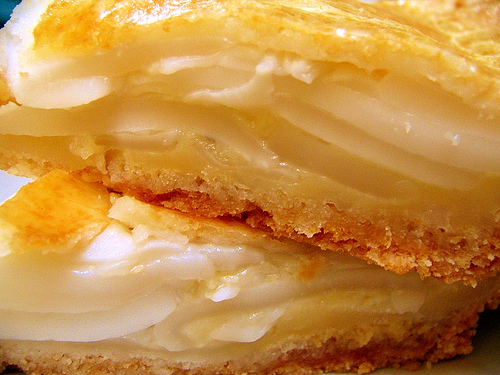 Dessert - Filipino Menu Ideas:
·         Filipino steamed cake-flour, baking powder, sugar, egg, milk, vanilla extract are mixed together in a thick consistency. The dough is poured in moulds and steamed in a steamer, making it a yummy Filipino dessert.
·         Ginataang Mais- a unique irresistible Filipino dessert prepared from coconut milk, glutinous rice, granulated sugar, and kernel corn.
·         Ube Halaya - condensed milk is combined with melted butter, purple yam and vanilla extract, and cooked under very low heat before they are refrigerated and served cold.  This makes a sumptuous Filipino dessert idea.
Image credits: simply-salads.com, thecookmobile.com, ginarapanutpaca.tumblr.com
Filipino Menu