Arabic Menu

7 Jul 2011
Arabic menu is all about dishes prepared from poultry, dairy products, vegetables, grains, nuts and legumes. Rice is the staple and is used for most dishes in Arabic cuisine. Vegetables like eggplant, zucchini, onions and okra are used as seasoning to add flavor to the entrees. Liberal use of garlic and mint makes Arabic dishes unique in itself. Spices like cumin, turmeric, saffron are also widely used in Arabic cuisines but the amount varies from region to region. Here are some Arabic dishes selected from their wide variety of fine Arabic dining.
Arabic breakfast menu ideas:
·         Shak shuka - a perfect Arabic breakfast dish where tomatoes, onions, green and red pepper, fresh chili pepper, black pepper and eggs are cooked together and served hot with bread. The dish can also be taken in lunch and dinner along with rice.
·         Basbooseh - it is a famous Arabic dish, simple and easy to prepare. Semolina, sugar, tahini and yogurt are mixed, baked and served with almonds garnish.
·         Meatloaf - authentic Arabic breakfast featuring turkey, basil, parsley, carrot, onion, cheese, egg and tomato.
Lunch and Dinner Arabic Menu Ideas:
·         Arab Shish Kebab - mouth savoring Arabic lamb preparation, where marinated lamb pieces are threaded on skewers along with pieces of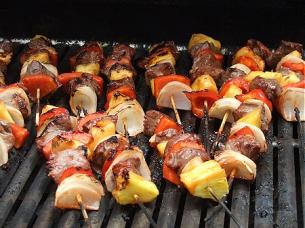 onions and broiled over hot charcoal.
·         Hummus Arabic - a tasty and famous Arabic dish prepared from chickpeas, garlic, lemon juice and tahini.
·         Arab Dated - an exotic dish selected from Arabic cuisine; dates in the dish make it simply addictive. The other ingredients in the dish are toasted almonds, candied citron, walnuts, honey and sugar.
·         Arabic Barbeque Chicken Drums with vegetables - tasty dish prepared from legumes, chicken drums, onions, basil and rice.
·         Arabic Meat Balls Galilee style - minced marinated chicken pieces are made into balls and fried in oil then they are cooked with onion, coriander, parsley, black pepper and sauce making it a mouth savoring dish served along with rice.
Dessert Arabic Menu Ideas:
·         Kunafa - it is a traditional Arabic dessert, specially served during festivals. This mouth watering dessert is served in variation with filling
made of banana, cream, cheese and nuts. Other ingredients used in the dish are lemon juice, orange blossom, almonds, cheese, butter, cinnamon and sugar.
·         Mafruka - yummy dessert prepared from semolina, condensed milk, sugar, ghee, nuts, rose water and corn flour.
·         Umm Ali - croissant, raisins, coconut, almonds and pistachio are mixed with condensed milk, vanilla extract, and cream and baked in oven. An ideal Arabic dessert that brings cheer to the table.
Check out all these Arabic menu dishes and let us know which one you love the best!
Image credits: wednesdaychef.typepad.com, easyrecipes.in, startcooking.com
Arabic Menu