African Menu

7 Jul 2011
Traditionally, African Menu has an array of dishes which reflect the rich culinary heritage of the region. The cooking style is a total reflection of the ways and times of people who have been living here for many decades. African cuisines mainly use a combination of fruits, vegetables and grains that are locally available. Milk and meat are widely used in their cooking style. Distinctive preparation techniques and awesome dishes make African cuisine most preferred. Here are some authentic African dishes that you can try.
Breakfast African Menu ideas:
·         Falafe - a typical African dish where little deep fried bean burgers are served with pita bread and a stew called ful.
·         African Chicken Stew - enjoyable breakfast dish consisting of roasted chicken, garlic, onions, potatoes, cumin, coriander, black pepper, red pepper flakes, peanut butter and garbanzo beans.
·         African Banana Coconut Bake -  bananas cut into slices and baked after mixing together butter, orange juice, lemon juice, coconut and brown sugar.
·         Rice Muffins/Breakfast Rice Cakes - all purpose flour, baking powder, cooked rice, egg  and milk are mixed together and baked making it an ideal, filling healthy breakfast dish.
·         Doughnuts - Mouth savoring, authentic African breakfast dish featuring eggs, sugar, butter, flour, vanilla, and milk.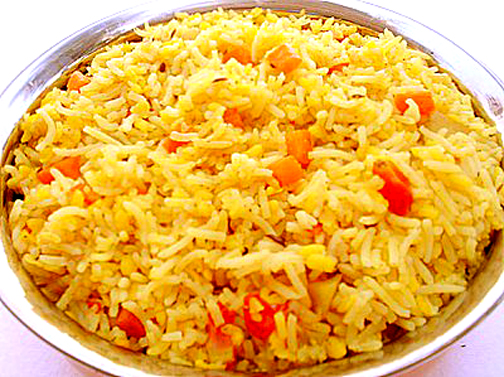 Lunch and Dinner African Menu Ideas:
·         Yellow Rice - great dish that emphasizes the culinary tradition of Africa. Long white rice is cooked on low heat with turmeric, cinnamon, raisins, sugar, and butter. This authentic African dish tastes awesome with bobotie.
·         African Pilaff - dry rice is sautéed and cooked in oil along with curry powder, lemon juice, sweet corn, tomatoes, and chopped pepper. The dish is served hot with garnish of red pepper and lemon slices.
·         African Berber Rub with meat and vegetable - an awesome African breakfast served with a perfect blend of vegetables, fish, meat, and spices. The African Berber rub is a combination of many spices which includes coriander, cumin, turmeric, fresh garlic, cinnamon, black pepper, garlic powder, fenugreek and others, which is used as a seasoning while preparing the dish.
·         African Chowmein - addictive flavor makes the dish irresistible; the main ingredients used in the dish are beef or chicken pieces, onions, mushrooms, soy sauce, chicken broth and uncooked rice.
Dessert African Menu Ideas:
·         Chocolate cake - irresistible dessert made with flour, unsweetened chocolate, butter, sugar, vanilla extract, sour cream, and egg.
·         Pineapple Sherbet - most liked African dessert served with an amazing flavor of fruits and ingredients like aspartame sweetener and gelatin.
·         Norwegian Trifle - delicious African dessert prepared with gelatin, lemon rind, egg, cream, and raspberry jam.
If you get an opportunity to check out African menu items, do not hesitate to try out every dish.
Image credits: caketodays.com, jasu.wordpress.com, ifoodtv
African Menu