Washington menu

6 Jul 2011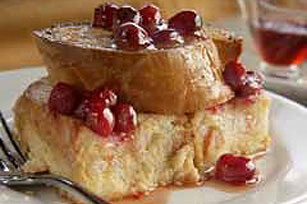 Washington menu is famous for its rich diversity of ingredients and preparation style. Try out any of the dishes from this cooking style and you will realize that Italian, Mexican and Chinese cuisine have joined the mainstream and are no longer foreign to the Washington palate. You can also find variations of hot dogs, hamburgers, beefsteak and fried chicken in this menu along with fascinating ethnic foods such as pizza, pasta and tacos. Here are some Special Washington dishes selected from their fine dining options.
Breakfast Washington Menu Ideas:
·         Baked French Toast - French bread baked with a mixture consisting of egg, orange juice, milk, lemon wedge, grated almonds and nutmeg. The dish tastes yummy when served with raspberry sauce and maple syrup.
·         Boreas Berry Fruit Soup - healthy, filling breakfast dish, full of luscious berries. The ingredients in the dish are fresh cranberries, apple juice, raspberries, sugar, and cornstarch and lemon juice.
·        Frittata - a baked dish prepared from egg, butter, milk, cheese, jalapeno, flaked smoked salmon, and green chilies. The topping of salsa and sour cream makes the dish awesome.
·         Oatmeal Bread - a fantastic way to start your day, the dish is prepared with cooked oatmeal, wheat flour, yeast, sugar, butter and bread flour.
·         Buttermilk Pancake - healthy pancake prepared by combining flour, sugar, low fat buttermilk, egg and baking powder.
Lunch and Dinner Washington Menu Ideas:
·         Washington Chowder- irresistible dish from Washington cuisine prepared with potatoes, onions, tomatoes, cream style corns and milk.
·         Washington Nut bars- flour, egg, brown sugar, walnuts, butter and vanilla extract are baked together making it a mouth savoring typical Washington snack.
·         Fish Tacos- fish pieces are grilled and then served with warm tortillas, shredded cabbage and sliced avocado. The dish tastes fantastic with a squeeze of lime juice.
·         Mini Chicken Barbeque Pizza- English muffins are layered with barbeque sauce, cheese, and shredded chicken and then baked in the oven and served hot with sauce.
·         Ground Chicken Lettuce Wrap - Famous dish where chicken is added with sautéed onion and cooked until white. The chicken pieces are then rolled in lettuce leaves and served with the main dish.
·         Black Bean and Tofu Tacos - easy and tasty Washington dish prepared from black beans, cloves, tofu, shredded lettuce, tomatoes and cheese.
Dessert Washington Menu Ideas:
·         Yogurt and Fruit Parfait - a scrumptious and enjoyable dessert mainly featuring yogurt and fruits. The healthy dessert can be served with a lot of variations by adding fruits according to ones preference.
·         Frozen Banana Bites - banana slices are covered with regular peanut butter and rolled in crushed nuts before they are frozen and served chilled.
·         Baked Apples - a healthy dessert choice where baked apples are served with a topping of natural sugar, granola and cinnamon.
Washington menu is easily available in different restaurants across the world – so, if you really desire to taste the food, you will surely find one such place!
Image credits: breadexperience.com, livthings.com,  allthatsplatters.blogspot.com, dairygoodness.ca 
Washington Menu