Cohen Diet Menu
1 Jul 2011
Cohen diet, forwarded by Dr. R. Cohen, is one-of-its-kind-of diet regime that believes that a proper, nutritious, balanced food is the key to healthy body and healthy weight. This diet plan stresses on the need of a well-balanced nutritious menu that can help the body produce insulin, serotonin, and human growth hormone required for maintaining hormonal balance and perfect body weight. The Cohen Diet Menu primarily includes high-fiber foods like lean meat, fish, fruits, and vegetables, as apart from being high on vitamins, proteins, minerals and other essential nutrients, these superfoods helps to keep your tummy satiated for long.
Cohen Diet Menu Choices
Allowed
Restricted
Fruits
Refined Sugar
Vegetables
Alcohol
Lean Meats
Milk
Whole Grains
Bread
Low-fat Yogurt
Egg Yolks
Luscious Choices For Cohen Diet Menu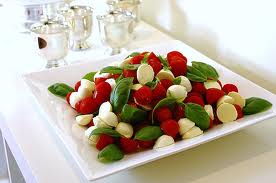 If you are looking for weight-loss meal ideas, then you cannot have a better starter than tomato salad. Prepared with tomatoes, mint, mozzarella and avocadoes, this lip-smacking Mediterranean delight is truly high on health and taste.
If you are looking for a yummy vegetable soup that is good for your health and comes without any frills, then broccoli soup is the best for you. Loaded with broccoli, chicken broth, light sour cream, onion, celery, and seasoning, this light, easy on the gut soup is indeed high on health and taste.
Grilled sole and shrimp is the ideal main course meal choice for all foodies desperately dieting to lose weight. Just add a dash of limejuice to your grilled seafood and you have a yummy delicacy at hand. Low in fat and loaded with fish oils, this heart-friendly food perfectly fits into Cohen diet menu chart.
Since Cohen diet menu follows a strict food protocol, overindulgence in sweets and desserts is a strict no-no. In that case, something healthy and tasty as Italian strawberries should be your ideal dessert choice. Low in fat and calories, Italian strawberries definitely makes for an ideal dessert choice.
Cohen diet menu endorses a well-balanced food platter and offers the dieters all essential nutrition required for promoting healthy hormonal balance and a proper body weight.
Image Credits: ifood.tv
Cohen Diet Menu