Mumbai Menu

1 Jul 2011
Mumbai menu is famous for its wide array of sumptuous dishes which are spicy, tangy, hot and mouthwatering. The traditional Mumbai platter consists of curries, rice curd, vegetables, salad and sweets but the people here enjoy their own variety of fast food. Beaches in Mumbai are famous for its lip smacking platter where food is available for every kind of budget and to satisfy every taste. Here are some traditional Mumbai dishes that you can try.
Breakfast Ideas:
·         Bombay sandwich  - sliced cucumber; beet, onion and potato are filled inside pieces of white bread and served with green chutney.
·         Chidva -  flattened rice cooked with vegetables and spices making it a perfect filling breakfast dish.
·         Vada Pav - special Mumbai hamburger is served with deep fried cutlets made of potatoes inside round shaped bread.
·         Egg Roll - a complete breakfast item with a wonderful combination of egg and vegetables like onions, tomatoes and carrots.
Lunch and Dinner Mumbai Menu Ideas:
·         Mumbai Chicken Roast - chicken pieces in the tasty Mumbai dish is marinated with ginger garlic paste, yoghurt, and then roasted in oven
and served hot.
·         Mumbai Frankie - an authentic Mumbai dish filled with a variety of vegetables, paneer, shrimps and chicken.  The dish is light and mostly loved by small children. The dish tastes awesome with chutney and sauces.
·         Solachi kadhi - a tasty dish served with rice or chapatti. The dish consists of grated coconuts, kokam, green chilies, garlic and coriander.
·         Varaan Bhaat - this special Maharastrian preparation tastes yummy with basmati rice. The ingredients used in the dish are arhar dal, coconut, garlic, cumin seeds, coriander leaves and others.
·         Khichdi -  filling healthy dish where basmati rice is cooked along with toor dal, ghee, vegetables and spices.
·         Spring Roll Dosa - crispy dosa served in Mumbai style prepared from basic dosa mix consisting of urad dal and rice. The dosa filling is prepared with potatoes, spring onion, green chilies and lemon juice.
Fast-Food Menu Ideas:
·         Bhel Puri- fast food dish prepared from puffed rice, green chilies, onions and sauces.
·         Pani puri-mouth watering dish where puffed puris are served with sprouts and potatoes and tamarind water.
·         Pav Bhaji- mixed vegetable curry is served along with round shaped bread and butter.
·         Dahi Batata Puri- tasty holiday Mumbai item where puffed rawa puris are filled with potatoes, sweet and sour chutney, green chutney, sprouts, yogurt and spices.
Dessert Mumbai Menu Ideas: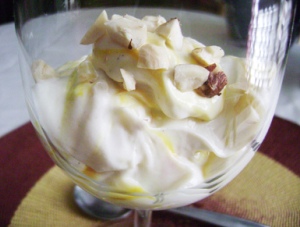 ·         Shrikhand - one of the most popular sweet dishes prepared from curd, sugar, saffron and crushed almonds and pistachio.
·         Shira - roasted rawa are cooked along with sugar, milk and bananas, making it a mouth savoring traditional Mumbai dessert.
·         Chikki -nutritious dessert served with a variation, mainly prepared from jiggery and butter. Almonds, peanuts, sesame seeds and cashew nuts are added to the dish to make it different.
Have any of these Mumbai menu items and let us know which one you liked the best!
Image credits: dhanharmasalas, the-cooker.blogspot.com, blogymate.com theindianrecipes.com
Mumbai Menu