Mauritian Menu

25 Jun 2011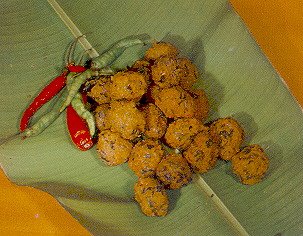 Mauritius is an island located in the Indian Ocean, famous for its breathtaking locales and cuisine. You can find a wide variety of dishes in Mauritian menu, reflecting the ethnic diversity of the people of Mauritius. The basic ingredients used in the dishes are tomatoes, ginger, onion, chilies, and garlic and home-crushed spices add to the taste and flavors of any dish. Here are some Mauritian mouth watering delights that you can enjoy on the paradise of earth or anywhere else where authentic Mauritian dishes are served.
Breakfast ideas:
Gateau Piment (Chilly Cake) - popular Mauritian crunchy snack prepared of soaked split peas blended and mixed with shallots, coriander and salt before it is deep fried in oil.
Mauritian Lunch/dinner menu ideas:
Beef Rougaille - a tasty Creole dish prepared from leftover cooked beef, where beef is added in gravy prepared with onions, tomatoes, pepper, thyme, and garlic.
Spinach and Watercress soup- Health soup prepared mainly from fresh spinach and other vitamin rich vegetables.
Mauritian Chicken Curry - tasty, spicy chicken cooked in gravy of onion garlic, potato, herbs, and spices.
550487-mauritian-rice-pilau.imagesqtbnand9gcqxp-jzjf6cscurk427x686bbh0xgnyoitl35pbhtx6nhqwm9qyt1Mauritian Dholl Puri - White flour dough with a filling made of yellow split peas and deep-fried in olive oil.
Rice Pilau - Basmati rice cooked in assorted herbs and spices - quite a filling menu item for lunch. Non-vegetarians can add chicken while cooking, to make it different and tastier.
Tomato chutney - Mouth savoring item, where boiled tomatoes are blended and mixed with chilies, onion, and coriander.
Dessert:
Pineapple Mousse- pineapple blended together and boiled with sugar, vanilla extracts, and gelatin, before refrigerating. It is served with custard cream.
Check out some of the unique Mauritius menu items and have the best foods of your life.
Image courtesy: monicanelsonmusic.com, indianfoodsite.com 
Mauritian Menu