Pizza Hut Menu
17 Jun 2011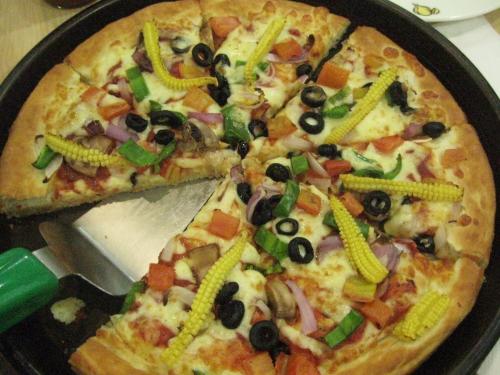 Who hasn't heard of Pizza Hut or the expansive, yummy and inviting Pizza Hut Menu? But once we come out of the restaurant, we kind of forget about the whole display of scrumptious pizzas, pastas, desserts and beverages, making us wonder why can't we keep it in our mind always so that we can order our favorites among these at the drop of the hat.
Well, we are here to resolve that problem as we reproduce here an abstract version of the Pizza Hut menu for your perusal. You can access this menu anytime you want and decide with your family what you want to eat at your local Pizza Hut outlet even before you step out of the house. So, here you go:
Pizza
Pizza Hut is well-known for pizzas, what else? And the range of pizzas at this restaurant chain is outstanding and mouth-watering, all at once. Sample a few varieties:
Create Your Own Pizza: You are allowed to create your own pizza at Pizza Hut, which is then custom-made for you, including your favourite crust, toppings, cheese and sauce.
Speciality Pizzas
What is eating out at Pizza Hut if not feeling distinct. Keeping this though in mind, Pizza Hut also allows you to choose a speciality pizza, out of the following:
Ultimate Cheese Lover's Pizza: This one is covered in creamy Alfredo sauce and topped with not one, not two, but three, yes three delicious cheeses!
Pepperoni Lover's Pizza: If you are a pepperoni-loving person, then this one is for you, with its extra layer of pepperoni, for a pepperoni in every bite of pizza.
Meat Lover's Pizza: Carnivores that we all are, the meat lover's pizza comes in as a boon for most of us who like to indulge in pepperoni, ham, beef, bacon or sausages on our eating out night.
Cheese Lover's Plus Pizza: You had the ultimate cheese lover's pizza and now you also have the Cheese Lover's Plus Pizza, as if that was possible. This one comes with a massive, melted layer of real cheese to go with two toppings.
Veggie Lover's Pizza: Not all fast food is bad for health, like this Veggie Lover's Pizza, which comes packed with the green energy in the form of five veggies, which are tomatoes, mushrooms, red onions, green peppers and black olives, all hand-picked and fresh from the fields.
Wings: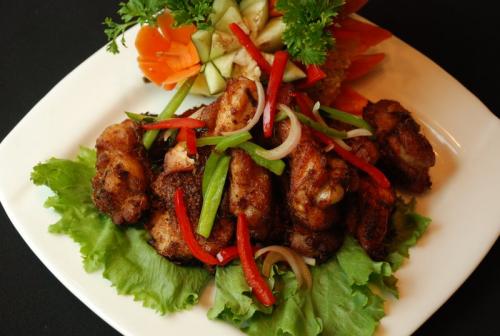 No, we are not going to give you wings, but Pizza Hut surely is. Have your pick from:
Buffalo Burnin' Hot: The daring buffalo eater can take this one up as a personal challenge for its extreme heat quality.
Buffalo Medium: For the not so brave-hearted, Pizza Hut offers the Buffalo Medium. However, these wings do not lack the bold buffalo flavour.
Buffalo Mild: If you are not upto the challenge of the extreme spice, Pizza Hut brings you the Buffalo Mild, which is, as per the restaurant website, "All the flavour without the fire."
Spicy Asian: How can spicy be complete without a mention of Asia, the originating place of all the spicy flavours in the world. Thus, Pizza Hut offers the flavours of far-east in a spicy, sweet sauce.
Side-Dishes & Desserts
You must be all worked up after savouring all that heat and fire, so we now bring you the Pizza Hut offers on side-dishes and desserts.
Stuffed Pizza Rollers: This hand-tossed, dough-wrapped and generously-seasoned side dish has its own sauce, which can either be marinara or ranch-dipping. Ready to dig into the stuffed pizza rollers?
P'zone Pizza: The Pizza Hut got creative with this one, as they took a folded pizza crust and loaded it with toppings and cheese and baked it and served it with the marinara sauce. That is cleverly yummy, right?
Breadsticks: This age-old side-dish seems to be getting better with time.

Hershey's Chocolate Dunkers: This is a special dessert made with a touch of white chocolate and Hershey's milk chocolate. What's more? The dunkers are served with rich chocolate-dipping sauce.
Beverages
Beverages, soft drinks, water remains the perfect finale to a hearty meal. This is what the Pizza Hut has to offer: Pepsi, Diet Pepsi, Coke, etc.
Now that you have the Pizza Hut Menu on your fingertips, when are going out for dinner with the family?
Image credit: ifood.tv, pizzahut.com 
Pizza Hut Menu