San Francisco Menu

17 Jun 2011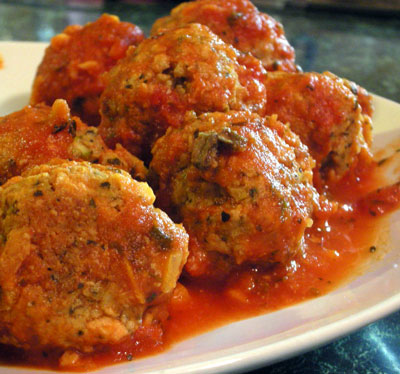 San Francisco is considered an epicurean city of California where you can find a vast array of tasty authentic dishes. It is a popular tourist destination, renowned for its steep rolling hills, modern architecture and a wide variety range of San Francisco menu items, emphasizing on fresh vegetables with a very low fat content. This makes San Francisco a food lover's paradise. Here are some great San Francisco menu ideas that you can enjoy in the sensual city.
San Francisco menu starters:
Antipasti:
·         Citrus-Spiced Mixed Olives- ideal starter made with a perfect combination of olives, garlic, red pepper, herbs and citrus zests.
·         Meatballs in spicy tomato sauce- An awesome way to beat your hunger pangs, with meatballs made of minced pork and beef mixed along with onion and other spices before they are fried and dipped in a rich tomato sauce.
·         Baked Polenta with Gorgonzola Cheese- corn meal combined with milk to make polenta and then mixed with cheese to make it a remarkable antipasto.
Salad Varieties in the menu:
·         Arugula and Fennel Salad- Sliced fennel bulb and onion tossed together with olive oil and lemon juice making it a healthy platter.
·          Crimini Mushroom Salad- Crimini mushroom dressed with mayonnaise, sour cream and lemon juice served along with sprouted beans and red pepper.
Lunch menu ideas:
·         Margherita- mouth savoring pizza consisting of tomatoes, mozzarella cheese, basil and garlic.
·         Spicy Italian sausage Pizza- Grilled pizza topped with fresh rosemary, spicy Italian sausage, red bell pepper, onion and cheese.
·         Roasted Artichoke and Buffalo Mozzarella Pizza- pizza baked with sauce made of onion, garlic, tomato and basil, topped with artichoke and spinach.
·         Tomato basil Risotto- Arborio rice cooked in chicken broth along with other ingredients like onion, tomatoes and fresh basil.
·         Risotto Alla Milanese-Traditional dish where rice is cooked with beef, dry white wine, onion and other spices.
Lunch Menu - Side dishes
·         Pollo Farcito: Ideal treats specially for grand occasions, where boned chicken is stuffed with a mixture of various ingredients including salami and grated Parmigiano and then cooked covered in low heat.
·         Grilled Gulf Shrimp-Shrimps marinated with pepper and salt are baked and brushed with barbeque sauce before it is served.
·         Lamb Osso Bucco- Lamb dredged in flour before it is fried and then dipped in gravy prepared of tomato, garlic and other assorted herbs and spices.
Dessert Ideas:
·         Cake Coquette- An incredible flavored dessert with candy topping.
So, is there any more confusion on what to pick up from your San Francisco menu items?
Image credits: rozannegold.wordpress.com 
San Francisco Menu