Las Vegas menu

14 Jun 2011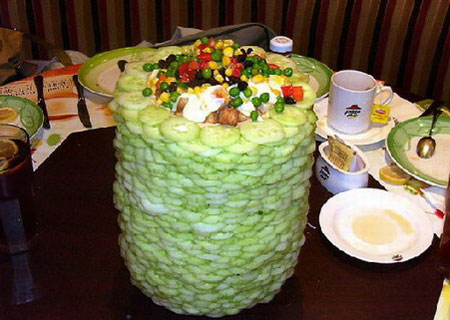 Major resort of gambling lovers, the city of Las Vegas is famous for its fine dining.  Las Vegas menu is all about exciting tasty contemporary dishes can be enjoyed in this resort destination. But since food is considered as the center of every occasion, you need to plan early on the menu to serve your guests. You can find a wide variety of food in Las Vegas, whether you plan for a party or wedding here are some special local favorites for you to get started.
Salads/appetizers /cocktails
Whether it's party or private dining salads cocktails and appetizers are the best options to begin with. So here are some Las Vegas menu favorites:
·         Tower Salad- the salad is very healthy and is prepared  with some fresh assorted vegetables, fresh pears  and walnut
·         Market green salad- the salad contains tomatoes, cucumber, red onion, fennel and
roasted pears.
·         Chopped salad- One of the best and healthy salad containing chick breast, vegetables, garlic prawns and lobsters.
·         Smoked Salmon- Tasty and tangy appetizer prepared with potato galette, sour cream, fried capers and chive oil.
·         Flash fried calamari- healthy appetizer served with tomato sauce and sour cream.
·         Shrimp cocktail- chilled shrimp served with saffron aioli and white asparagus.
Main Course Menu Ideas:
Sandwiches:
You can find both hot and cold sandwiches in any Las Vegas menu.  Cold sandwich is served with green salads and potato waffle cookies, whereas hot ones are served along with French fries and salad.
·         Roasted vegetables- bread containing filling made of kalamata olive tapenade, onion heirloom tomato and other vegetables.
·         Smoked salmon-  tasty sandwich  served on bread with a filling containing  lemon aioli, smoked bacon and tomatoes
·         Lobster grilled cheese and tomato sandwich- healthy non-veg sandwich made of bread and lobster salad.
·         Vietnamese style grilled chicken sandwich- sandwich containing grilled chicken breast, mayonnaise, carrot, papaya and cucumber.
Sea Food:
·         Seared organic salmon with lemon grass-  spicy  and tangy treat , prepared  with salmon streaks, lemon grass and other herbs and spices
·         Large Prawns and scallops- this fancy, tasty recipe can be just perfect main course. it contains pasta, prawns, scallops, fresh parsley  butter and other spices
Entrees:
·         Roasted chicken with black garlic- South-American style dish prepared of, whole chicken roasted along with flour lemon, garlic and other spice.
·         Colorado rack of lamb with herb crust: delicious recipe prepared of trimmed lamb, parsley, butter and other spices.
Vegetarian:
·         Yukon gold mashed potatoes: Yukon potatoes cooked until caramelized with butter, cream garlic and pepper.
·         baby carrot with honey and shallots: carrot and shallots cooked in butter, honey and black pepper.
With such a great list of some Las Vegas menu dishes, would you be confused next time on which one to pick?
Image credits: english.cri.cn memestreamblog.wordpress.com howtocookfish.info
Las Vegas Menu