14 Day Diet Menu
12 Jun 2011
14 day diet menu is what can lift loads off you, given you can stick to it to T. The biggest problem with most weight-loss diet regime is that either you end up being famished and discouraged at the end of the day or lose weight so slowly that you eventually feel worn-out and quit. 14 day diet is quite unlike any of those diets. Just as the name suggests, 14 day diet menu includes low-calories nutritious meals that helps you to lose about 14 pounds in a matter of couple of weeks. What's more, once your body gets used to the existing diet, you can make necessary amends in your daily diet to keep the calories from piling up on your body. Trail down this write-up that gives you an insight on what to eat, what to skip and some tasty food options to try when living on a 14 day diet menu.
Healthy Choices That Will Help You To Lose Weight Fast
Allowed
Restricted
Low-fat Cottage Cheese
Simple Sugars and Syrups
Potatoes
Animal or Milk Fat
Brown Rice
Butter or Lard
High-fiber Vegetables
Vegetable Oil
White Meat
Enriched Flours
Foods That Will Help You Lose Weight
If you are looking for a power breakfast to kick-start your mornings, there can be nothing better than a hot bowl of oatmeal. Not only is it extremely filling, but also contains higher amount of soluble fibers that helps to stave off the fats and help you in losing weight. The perfect way to kick-start your 14 day diet!
Whole Wheat Pizza With Green Peppers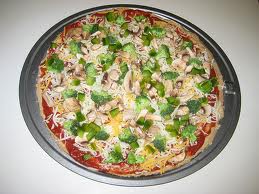 Pizzas don't really have to send the weight-gain-siren tooting! Whip up a tasty, healthy pizza at home with unsifted whole wheat flour and some yeast, an ounce of mozzarella cheese, some green peppers and tomatoes and lip-smacking herbs, and you have a great snack option at hand.
If you swear by Asian cuisine, then the very thought of noshing on Asian salmon is likely to get you drooling. Melded with salmon fillets, yogurt, curry powder and bread crumbs, this luscious lunch-time treat is what you need to lose weight when surviving on 14 day diet menu.
Brown rice pilaf makes for a simple, clean dinner fare. Try replacing your dinner noodles with brown rice pilaf and feel a considerable difference on your weight in a matter of 14 days.
14 day diet menu is indeed unique. Apart from including healthy, tasty food, it also includes essential nutrients that are required for nourishing the body and boosting good health.
Image Credits: ifood.tv
14 Day Diet Menu