Mardi Gras Menu
9 Jun 2011
Make your Fat Tuesday even more interesting with this wonderful Mardi Gras menu. We bring to you some marvelous menu ideas for the festive event that have been handpicked exclusively to ensure complete delight. Read through to get an idea about this rich yet traditional menu for Mardi Gras...
Simply Enticing Mardi Gras Menu Ideas
This is the inevitable ingredient of any Mardi Gras menus. These luscious cakes are simple and easy to make. The simplest version comes with a multihued frosting on a sugary donut. So, instead of buying a King Cake for Mardi Gras party, try making it at home.
An undeniable dish in the Mari Gras menu, chicken adds to the lip smacking taste of this dish. The color of the rice is usually dark giving it a dirty look, hence the name also. You need to be a gourmet to prepare this amazing, yet simple dish. Try it!                                                        
Jambalaya, like the King Cake, is a vital ingredient of all the traditional menus for Mardi Gras. Made with sausages and chicken breasts will be a true treat to the food buffs, who just don't care about the calories.
The yummy blend of Cajun trinity vegetables along with tomatoes in vegetable stock and spiced with Tabasco sauce is delightfully aromatic and luscious. This wonderful Mardi Gras menu idea will taste delicious with Dirty Rice as well as Jambalaya.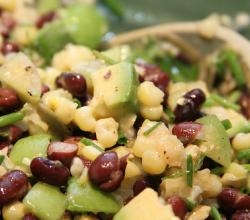 The yum blend of golden sweet corn and black beans with sliced mushrooms and fresh jalapeno pepper makes this dish an exotic choice for the menu you have chosen for Mardi Gras. The delicate dressing prepared using a mixture of rice wine vinegar, orange peel, cumin seeds and orange juice makes this a refreshing side dish among menu ideas.
The mouthwatering chicken spiced with black pepper powder and deep friend can be enjoyed with a yummy blend of chicken broth and oyster sauce. Include this dish, topped with a generous amount of roasted cashews for a crunchier appeal, in your menu.
These soft yummy pralines are delicious confectionaries that have been adored by kids and adults alike since time immemorial. An ideal holiday dessert, this perfectly gels into this splendidly designed Mardi Gras menu as an exotic dessert idea. Keep a comparatively good quantity as you will find people asking for more.
The creamy bourbon drink is one of the Mardi Gras foods that is popular in New Orleans. The creamy milkshake, a unique blend of bourbon, full cream milk and white creme de cacao, can be made even creamier with the addition of vanilla or caramel ice cream. Sprinkle grated nutmeg and few marshmallows for added appeal.
There is no better way to enjoy this marvelous festival than having a good dining experience with this ultimate Mardi Gras menu. Try these menu ideas yourself and feel delighted!
Image Credit: authorsusannafraser.blogspot.com, morselsandmusings.blogspot.com, cakecentral.com, ifood.tv
Mardi Gras Menu