Bridal Shower Finger Foods

3 Jun 2011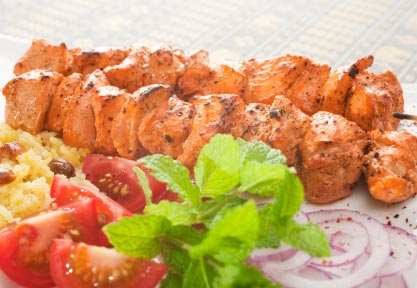 Bridal shower finger foods should be well planned because of the social significance of this happy occasion. Arrangement of finger foods in bridal shower party is a popular food arrangement because of two reasons. Bridal shower party is held mostly with close friends and family members' union before the actual marriage ceremony therefore it emphasizes more on intimacy than formality. Easy to serve and easy to eat finger foods does not require much time in enjoying foods and guests can enjoy better time with their friends and relatives. Moreover bridal shower finger foods arrangement goes well with the party mood and leaves all over a cozy fun filled ambience and it allows the host to spend more time with guests. Let's have an outline idea what can be the options for bridal shower finger foods.
Let's take a look on some finger foods option for bridal shower party.
Meat tray - this tray is made of different meat items like meat ball, sausage, chicken finger chips, jalapeno poppers, turkey burgers, chicken roll, fried chicken etc. Do not forget to add dip and sauces in the tray to help the guest to enjoy the savory taste better. Chicken pizza and hotdogs akso good options for finger foods.
Cheese trays are also a wonderful option of finger foods. Make tasty cheese recipes like cheese balls, cheese straws, cheese cakes, and baked cheese pieces. You can add cheese pizzas or brie of goat cheese here also.
Fruit trays are all about assorted fruits where delicious taste and wonderful nutrition will be on the platter for the enjoyment of the guests. Seasonal fruits will form best trays for the bridal shower where taste and color blends with each other and forms a tasty food platter. You can season the fruits with cinnamon powder and honey. Cantaloupe, melon, baby carrot, strawberry, pineapple, grapes, is great option for fruit tray. Similarly vegetable trays are popular options for bridal shower finger foods. However, in the both the trays you have to keep dip and sauces.
Sandwiches are wide in variety and are wonderful bridal shower finger food items. Similarly salads like chicken salad, tuna salad, sea food salads, ham salad, bacon salads and shrimp salads are also wonderful finger foods for bridal shower party. Crab legs, shrimp cocktails, goose liver pate is also quite in demand in between party hosts in order to add variety party menu.
In desserts, cake, mini cupcakes, cookies, brownies, cinnamon buns will add special appeal to the taste buds.
Now when you will arrange bridal shower finger foods, you selection menu will surely keep the party rocking.
Image credit: ifood.tv 
Bridal Shower Finger Foods