Blueberry Menu
3 Jun 2011
A Blueberry menu would be ideal between May and July which is when this fruit is in season. You can enjoy blueberries in a wide range of dishes ranging from cocktails to baby back ribs. Here are some great suggestions for a brilliant blueberry menu.
Blueberry Wine
This drink tastes just about as exotic as it sounds. It's a cinch to knock the socks off your guests when they try this decadent drink. Blueberries can make a supreme dry, aromatic wine. This wine tastes great and has a profound purple color. You can pair it with red meat dishes, lamb, pork, pasta and sharp and bleu cheeses. Making this wine at home is pretty simple.
Raw Blueberry Pancakes
This dish is not only healthy but also great for someone who wants to indulge in a raw food diet for a day or just for a meal. This food item is fresh and unprocessed and will do your body a world of good. Made from organic fruit, pine nuts and all-natural sweeteners, raw blueberry pancakes are one of the many delectable breakfast dishes that can be eaten on a raw food diet. This delicious flourless pancake recipe is exceptionally nutritious and simple to prepare.
Salads
Spruce up a simple salad with blueberries. Fruit salads with peaches, pineapple, mango, and blueberries are fantastic compliments to each other. Blueberries, strawberries and bananas work particularly well together. Drop some blueberries on a Waldorf salad or chicken salad or add some fresh blueberries to a Mediterranean or spinach salad.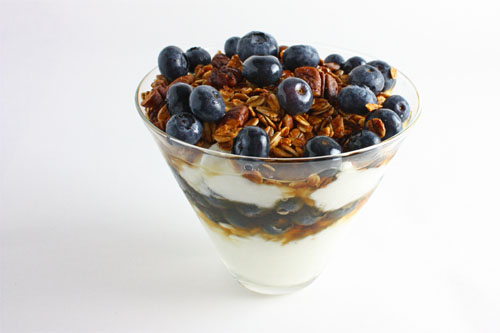 This dish works well for breakfast or even as a light dessert after a heavy meal. Take a tall glass and cover the fresh blueberries with low fat yogurt and granola. Look for pretty glasses or parfait dishes to add panache to the dessert. The rich blue color of the berries against the cream of the yogurt creates an appetizing appeal.
Blueberry Soup
Enthrall your guests with some pleasantly tart and tangy fresh blueberry soup. It's a wonderful way to put that bounty of blueberries to great use. Blueberry soup is ideal on a hot summer night, and can be served as a starter or after dinner.  You can stir in some sour cream and wine into the blueberry soup just before serving. Also, remember to serve the blueberry soup in chilled bowls, topped with a few whole blueberries.
This Blueberry menu will have you enjoying blueberries till you are literally blue in the face. Expect guests to order seconds and make generous quantities. Bon Appétit.
Image Credits – ifood.tv; closetcooking; isotonicsonline 
Blueberry Menu