Radish Menu
3 Jun 2011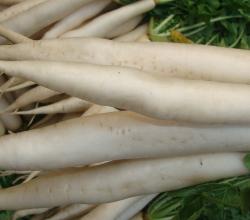 What everyone will really appreciate in a radish menu is the sharp bite that radishes bring to all the food items. This root is used regularly to enhance the flavor of favorite cooked dishes. Here are some great suggestions to make a radish menu really stand out.
Crab Salad with Shaved Fennel and Radish
Crab salad with shaved fennel and radish is an unbelievably easy to prepare dish that makes a great lunch on a warm spring or summer day, and can also be enjoyed in winter as a first course before a spiced pumpkin soup or roasted tomato soup. Serve crab salad with shaved fennel and radish with a loaf of hot ciabatta bread and garlic butter with a goblet of crisp, clean white wine with just a bit of sweetness to flatter the crab.
Radish with Dip
Radishes can work really well as a low calorie snack. Try getting the fresh, organic variety from your local farmers market. All you need to do for this snack is wash and trim the radish, and decorate on a serving platter. For the dip you can pick something like the spinach artichoke dip, or something as simple as a creamy ranch dressing. Creamy dips work better with this tuber so stick to that kind.
Radish Stuffed Indian Flat Bread (Muli Parantha)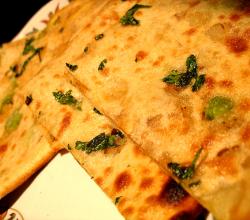 Indian flat bread stuffed with shredded daikon radish will make for a great meal.  This hearty fare is typically eaten with a spot of unsalted butter melting on it or with a bowl of yogurt and pickle on the side. On cold winter mornings, freshly cooked, stuffed Indian flat bread or "paranthas" make for a mouth-watering brunch, washed down with a glass of buttermilk.
You can whip up a great salad with radishes. This salad is best made with radish is in season.  If you have them growing in your back garden or you got a good deal on them at the super market, this dish is a great way to utilize that bounty of radish.  This tuber will make for a yummy, healthy salad dish and it is sure to please.  You can simply use olive oil as the dressing for this salad and if that seems a little insufficient, combine it with some Italian dressing.
Hope you enjoyed these creative radish recipes. There are a variety of things you can do with surplus radish; you can even try your hand at carving flowers from radish and using them as decoration while serving dishes from this appetizing radish menu.
Image credits - ifood.tv 
Radish Menu