Eggplant Menu
2 Jun 2011
If you are starting on an Eggplant menu and wondering what you could possibly include in it, well you would be surprised. There are a number of scrumptious dishes that can make this vegetable taste succulent and appetizing. From starters to a main course, you can use an eggplant to whip up a dish for just about every course. Take a look at these great eggplant menu ideas.
Eggplant Parmesan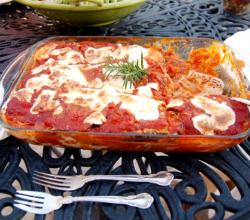 This gourmet recipe requires for the eggplant to be smeared with some salt to get rid of extra moisture, and then cover it in flour, egg, and Panko. When pan fried over medium to high heat, the outer layer turns a beautiful golden brown, and faultlessly protects the eggplant. Panko, those amazing Japanese bread crumbs, provide a crunchier exterior than conventional bread crumbs, and make for a great contrast to the juicy eggplant. You probably would never have had eggplant taste like this. There is no need to spring for a meat. This classic dish is just fine without any meat at all.
Honey Garlic Grilled Eggplant
What makes this recipe so delicious is the honey-garlic marinade. Honey on eggplant? Don't worry about it being overly sweet. You won't really taste the honey, but it aids the eggplant caramelize on the grill. The results are musky and tender. It is certain that when you try this eggplant you won't have any lack of ideas for serving it.
Indian Style Eggplant with Potatoes 
If you love Indian food or even if just love food with a lot of flavor and spice, this dish is for you. It will definitely be the star dish of an eggplant menu due to its myriad flavors. You can make this into a gravy dish or a dry dish and it is best eaten with Indian flat bread or basmati rice. Some accompaniments that go well with this dish is lentil soup, a yogurt dip or "raita" and some Indian style pickle.
Bread and Eggplant Lasagna
The great thing about this dish is that you can put absolutely anything in this lasagna. Eggplants go marvelously well in this dish and if you have a couple lying around at home, why not try out this lasagna. If you can use some rustic bread for this dish it will make it taste that much more delicious. Serve with some toasted garlic bread and a simple salad to make it a complete meal.
Eggplant Fries
How many people would have ever had eggplant fries? Not very many! This dish will stand out in that eggplant menu and make for a great starter. These eggplant fries are crisp, salty, and delectably creamy on the inside. Serve hot sprinkled with sea salt, or with a small portion of spicy marinara sauce or cold ranch dressing.
These eggplant recipes are going to make eggplant really seem like the king of vegetables. Enjoy eating these dishes as much as you enjoyed reading about them.
Image credits – ifood.tv 
Eggplant Menu