Flour Menu
2 Jun 2011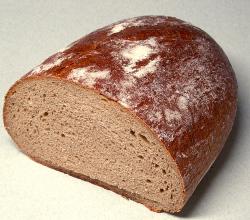 When working with a flour menu, it can be a little disconcerting when you pause and think about thy countless dishes and recipes out there. Even when thinking about what flour to use, you have a million choices available. Take a look at this fantastic flour menu that uses more than just one kind of flour and has more than just sweet baked goods.
Apricot and Nut Biscotti
These double-baked crisp biscotti are chock-full with dried fruit and nuts, and are made lighter without butter. They're best eaten with a strong cup of coffee or dipped in some vanilla ice cream for a sweet treat. People are going to love the contrast between the lovely lemon-inflected biscotti dough and the intermingled tastes and textures of nuts and dried fruits.
What's really great about crepes is that they can be made into a main dish or a dessert depending on what kind of topping and fillings you use. You can substitute wheat flour with all purpose or rye flour to change up the recipe.  Use veggies like scallions, bell peppers, broccoli to make this into an entrée.  Simply use maple syrup, whipped cream and other sweet condiments to transform these crepes into a heavenly sweet treat.
Sausage Bread
Baking just plain bread can be a tad boring, why not put a spin on the recipe and make some sausage bread instead. This bread is savory, toothsome and yummy. When baked it's slightly on the dry side so if you do want it more moist you can double up the milk. You can add cheese like cheddar or olives to make the bread even more flavorful.  You must be careful not to overcook it. You could try making the sausages at home versus the store bought ones and it will definitely kick the flavor up a notch.
Vegetable Frankie
This is an Indian take on a 'wrap.' The wrap or the Frankie can be made at home with a mixture of all purpose flour and wheat flour or you could simply by some tortillas from the grocery store. The filling of the wrap is made up vegetable cutlets which are deep fried. Spread some chili sauce or cilantro chutney on the wrap before stuffing it with the veggie cutlets to make the Frankie even more delicious.
Homemade Pizzas
Sure it's much easier to pick up the phone and get pizzas delivered to your doorstep, but once you make pizzas from scratch at home, you will never want the other kind again. Making the pizza crust at home means being able to experiment with different herbs and seasonings, cheese, toppings, seasonings, the sky is the limit.  You can really go all out with this dish.
Hope these flour menu ideas were appealing and have excited the chef in you. Have fun in the kitchen and of course, bon appétit.
Image credits - ifood.tv 
Flour Menu