Soft Diet Menu
31 May 2011
Soft Diet Menu includes dishes prepared with items which are easy to chew and swallow. Soft diet menu is prescribed for those who have either undergone a surgery or are troubled by dental problems. In such a state one has to diligently plan the diet and include those items which can be easily chewed and swallowed to aid digestion process. Here are a few dainty and exquisite soft diet menus spread across the major meals of the day.
Soft Diet Menu Ideas Both Tasty And Nutritious
Allowed
Not Allowed
Banana, Fruit Juice, Canned Fruit
Raw Fruits and Vegetables
Breads
Dry Fruit and Nuts
Cereals
Chips and Cookies
Ricotta And Cottage Cheese
Non Tender Meat
Soft Diet Menu Breakfast Ideas
Keep your sunny side up and enjoy varied soft food items in your breakfast platter. Hot Oatmeal, low fat yogurt and cottage cheese pancake can be included in breakfast regularly. You can either enjoy scrambled egg or french omelet. Gulp fruit smoothie or tomato juice with fresh and favorite fruit and vegetable of your choice.
Soft Diet Menu Lunch Ideas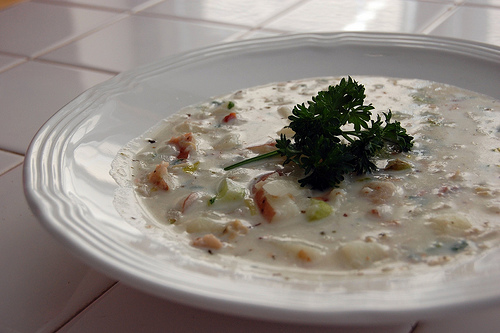 For lunch you can enjoy vegetable delights like Corn and clam chowders. Make sure to peel the skin off before cooking the vegetable to make them soft. Miso soup can also be delightful with the mix of mushy tofu, seaweed and green onions. Sandwich prepared with crust-less soft bread can be used to prepare tuna sandwich. Chicken salad and spinach salad are the other healthy dietary options.
Soft Diet Menu Dinner Ideas
Carrot and broccoli softy can be an appetizer for dinner. Make sure to cut the vegetables into small size and ensure that they are cooked till soft before consuming. Sautéed tofu and baked scallops can make your dinner wholesomely delightful. Team it up with mashed potatoes adequately flavored with garlic. This is the time to enjoy dessert and you can have your platter full with banana custards, ice cream and pear lime sorbet.
With these different and pleasant soft diet menu ideas, you sit back and relax with the thought that you are not consuming bland and dull food, but have an array of beautiful flavored soft food assorted platter in front of you.
Image credit: ifood.tv
Soft Diet Menu