Kerala Thali
27 May 2011
Kerala Thali presents one of the most sumptuous feasts for the palate of a food lover. A perfectly balanced meal, each and every dish that is a part of Kerala Thali is a true reflection of the beautiful heritage and culture the God's own land has in it. Served on a banana leaf, the meal starts with a sweet, mostly a Palada Prathaman, followed by some delicious dishes.
While you will be able to notice a vast variation among the Kerala Thalis available across this beautiful land, there are some dishes which are part and parcel of any Kerala Thali. Cooked in coconut oil, coconut is a major ingredient in the dishes, irrespective of being vegetarian or non-vegetarian.
There is a specific etiquette to be followed while serving a Kerala Thali. The meal should always start with serving the sweet, payasam, on the lower, right hand side of the banana. The other dishes follow these. I present here few such dishes, which you can try your hand at while preparing a Kerala Thali.
A Classic Kerala Thali Menu
A traditional dessert of Kerala, milk and rice flakes form the ingredients. Garnish with few strands of saffron and roasted cashews for added taste. You can enjoy this simple dish warm or cold.
Inji Pachadi
A ginger and coconut chutney, this tasty dish aids in digestion.
This is a traditional Kerala dish prepared by adding okra to coconut and yogurt mixture and seasoned with mustard, curry leaves and red chilies.
A Sadya is incomplete without olan. Made using black eyed peas, white and yellow pumpkins, the coconut milk brings in a unique flavor for this dish.
A yogurt-based dish, this richness of freshly ground pepper makes this raw plantain and yam curry an unavoidable choice.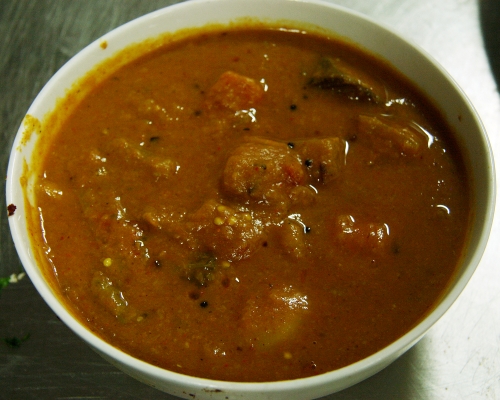 The uniqueness of Kerala Sambar is that it is prepared by grinding coconut with spices like coriander seeds, fenugreek seeds and red chili.
This is nothing but the mixed vegetable curry. Prepared using traditional Kerala vegetables like white pumpkin, yellow pumpkin, drum stick, bitter guard, yam, raw banana etc in coconut and green chili gravy, the sour taste of this dish is rendered by yogurt or sour green mango.
This again is a curry made up of a miscellaneous variety of vegetables and Bengal gram.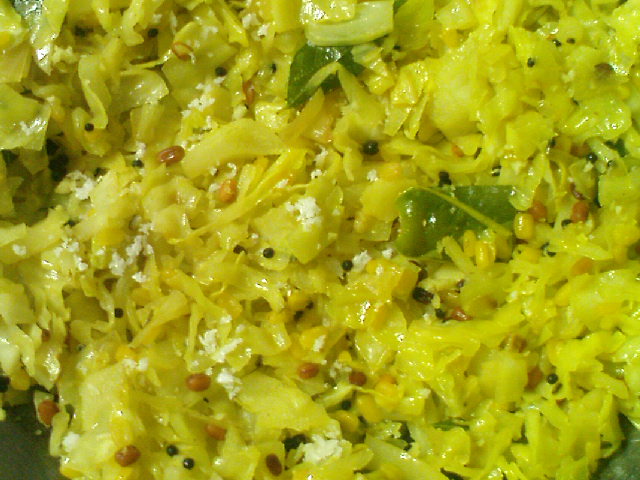 The simple cabbage stir fry turns royal with the inclusion of coconut and green chili.
Puli Inji
This is a spicy dip prepared using ginger and green chilies in a tamarind sauce.
Chethumaangakari
Freshly sliced green mango pickle spiced with red chili powder and asafetida brings water in your mouth.
How can one forget the famous banana chips?
Pappadom
No Kerala Thali is complete without pappadom. The thin wafer,deep fried in coconut oil is a must accompaniment for sambar.
Rice
People of Kerala prefer red boiled rice. This rice goes hand in hand with the various dishes of Kerala Thali.
Non-vegetarian dishes are also included in many parts of Kerala. Let me take your through a quick round of some very popular non-vegetarian dishes that can be a part of your Kerala Thali.
Karimeen Porichathu
An authentic Pearl Spot Fry from Kerala, you have the option to shallow fry or deep fry the fish with the ingredients like coriander powder, red chili powder and fish masala, that is exclusively meant for preparing this dish.
A very popular authentic Kerala Chicken recipe prepared by adding roasted coconut with spices, this dish tastes equally good with Indian flatbreads like naan and rotis as well as dosa and rice.
I hope these wonderful menu ideas will be useful in preparing a scrumptious and delightful Kerala Thali. Try today!
Image Credit: ifood.tv, niyasworld.blogspot.com
Kerala Thali