Caveman Menu

24 May 2011
Caveman menu, as the name suggests, is a menu designed around the diet consumed by the prehistoric man. The caveman diet, or the Paleolithic diet or the Stone Age diet involves only the consumption of naturally occurring food, i.e. the food items which have been there before the agricultural practices began.
The menu for caveman is usually sought by people who are on a weight loss spree. The entire idea behind incorporating this meal plan in one's lifestyle is that, followers of this diet believe that the early man remained fit by consuming a diet rich in proteins and fats but low on carbohydrates. And in order to stay fit and also loose weight, they also follow the meal practices of the prehistoric man.
If you are in a situation where you are required to make a menu for caveman diet, then there is no need for you to fret. Because here we will provide you with meal plans for this menu.
But before beginning with planning a menu for caveman follower, we need to know about the do's and don'ts of this diet.
FOODS ALLOWED
FOODS RESTRICTED
Fruits
Grains, legumes, rice
Vegetables
Cooking oil with exception of olive oil, walnut oil, rapeseed oil, canola
Eggs
Refined sugar
Nuts
Dairy products
Meat and seafood
Salt
The list should give you a fair idea what this menu will be all about. One thing that you need to keep in mind while preparing the menu is that, you need to keep all the processed foods items, mixes, ready to eat stuff, out of the way. Also use less of salt and in place of sugar use honey.
Some meal ideas for caveman menu—
Breakfast—
Prepare an Egg White Scramble for breakfast.
As the name suggests it is made from egg white and tomatoes and onions are added for flavor.
Since meat is also allowed in the menu for caveman, you can also try making Smoked Sausage.
All you need is good quality sausages, wood chips and a grill or barbeque and the dish is easily prepared.
Mid-morning—
For mid-morning, you can incorporate fruits of different varieties like apples, grapes, bananas, oranges, etc.
In fact you can cut them in pieces and add lemon juice and mint leaves for flavoring and savor the fruits.
A Tossed Raw Vegetable Salad can also be added as a mid-morning snack.
It is very simple to make and is prepared by tossing together cauliflowers, tomatoes, carrots, cabbage, etc.
Lunch—
Split Chicken Breasts with Baby Broccoli can be a wholesome lunch.
The chicken breasts are grilled with stuffing of shallots, garlic, lemon, and seasoned with salt (less) and pepper (which you can leave out). It is served with roasted broccoli.
Broiled Shrimp can also be a good choice.
Shrimp is broiled in broiler unit with garlic, olive oil and lemon juice and is very light and flavorful dish. You can serve it along with steamed vegetables.
Evening—
For evening snack you can serve dry fruits.
Nuts are high in Omega 3 fatty acids and proteins and hence are permitted in the menu for caveman.
Coconut water can also be served alongside.
Dinner—
For dinner, you can add a Whole Roasted Turkey.
Turkey is roasted in oven along with a little salt and olive oil.
Barbecue Grilled Fish is another option which you can try out for the menu.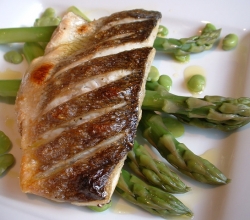 The fish steaks are barbecued along with a little bit of salt, lemon juice and oil (original recipe uses salad oil, you can use olive oil).
Fruits are your best option for the desserts. You can offer strawberries or any other berries to your guests.
So no matter what time your guests are coming, you can now easily prepare the meals with this caveman menu. So cook up and impress your guests.
Image credit: ifood.tv 
Caveman Menu