Lacto Vegetarian Menu

20 May 2011
A lacto vegetarian menu is one which includes vegetarian food with the inclusion of milk and dairy products like yogurt, cream, butter. It does not include any dish prepared from egg or any other animal product.
Lacto vegetarian diet is very popular and is followed by many people. So if you are playing host to guests who are into lacto vegetarianism, then you can plan a menu for them with ease.
All you have to do is to keep in mind the do's and don'ts of the diet and plan a menu for a lacto vegetarian accordingly.
FOODS ALLOWED
FOODS RESTRICTED
Vegetables
Eggs
Fruits
Meat of any kind
Nuts
Fish or any other seafood
Milk and milk products like yogurt, cottage cheese, cream etc.
Cheese made from rennin
Grains
Any other product containing animal product like gelatin etc.
This table should give you a fair idea on what all to include and what to avoid in a menu for lacto vegetarian.
Meal Ideas for a Lacto Vegetarian Menu
Starters provide good start to a meal. So you'll have to choose starters which are ideal for the menu for a lacto vegetarian.
Paneer Bruschetta+Homemade Paneer
 Paneer Bruschetta+Homemade paneer will make for an ideal starter. This Indian version of simple cottage cheese will surely add that exotic touch to your homemade menu.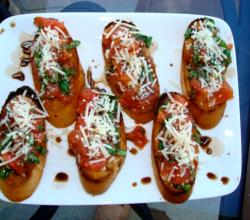 This variation of bruschetta with a topping of paneer or riccota cheese is flavored with mint, cherry tomatoes, onions, coriander, etc. will surely have your guests asking for more! 
Dilled Mushrooms
You can also include Dilled Mushrooms .
This dish of mushrooms and dillweed is served cold.
Sweet Corn Soup
For appetizers you can opt for a Sweet Corn Soup.
Made of corn this soup is a perfect appetizer and is quite different from the usual soups.
Wilted Cabbage Slaw
A Wilted Cabbage Slaw makes for a delectable salad. This is a mix of cabbage, celery, carrot, onion flavored with a dressing of vinegar.
This cheese and milk based French dish with a generous serving of vegetables is one of the most balanced and wholesome yet delectable inclusions in your menu.
This dish will add the much needed protein and fibers to your diet for sure. 
Savory Oven Vegetables
Savory Oven Vegetables can also be a choice for the main course.
This dish is prepared by baking an assortment of frozen vegetables with dillweed, butter and salt.
Cucumbers and Yogurt
Cucumbers and Yogurt is a good accompaniment for the meals.
This is prepared by mixing a paste of mint leaves and garlic to the yogurt and then adding the cucumbers along with salt and pepper. This is served cold.   
Honey Peach frozen Yogurt
Yogurt can also be served as dessert. Try making Honey Peach Frozen Yogurt which is prepared by blending vanilla yogurt and peaches and honey and is a low calorie sweet delight!
Orange Pie
Orange Pie is also eggless and can be added to the menu.
Oranges, custard powder, lemon juice are some of the ingredients which make it so tasty.
Condensed Milk Kisses
Condensed Milk Kisses are a good option if you plan to serve something different to your guests.
This no hassle dessert is actually cookies made from condensed milk, coconut, vanilla and a little bit of salt and are great as an after meal dessert! 
So now you must have got a fair idea and I hope these food suggestions help you while planning the lacto vegetarian menu.
Image credit: ifood.tv 
Lacto Vegetarian Menu